Shillong, Aug 15: 'Long Live HNLC' was the last salute to former general secretary of HNLC Cherishstarfield Thangkhiew at the cemetery of Church of God at Mawlai Lawmali where his mortal remains were laid to rest on Sunday evening.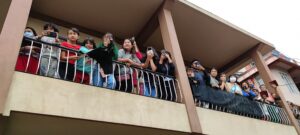 Earlier, a large crowd, part of the funeral procession, walked 7km covering several areas of Mawlai.
The funeral procession started from the residence of Thangkhiew at Mawlai Kynton Massar and covered Mawlai Mawdatbaki, Phudmuri, Motsyiar, Nongpdeng and finally reaching at the Mawlai Lawmali cemetery. It stopped for a while at his mother's house at Mawlai Nongpdeng.
During the procession, people gathered in parts of Mawlai to have the last glance of the departed leader and used their mobile phones to record the event. 'Long live Cherish, long live HNLC' resounded as the procession passed through various localities of Mawlai.
Earlier, the leaders of pressure groups demanded the resignation of Home Minister Lahkmen Rymbui and a judicial inquiry into the killing of Cherish by the police.