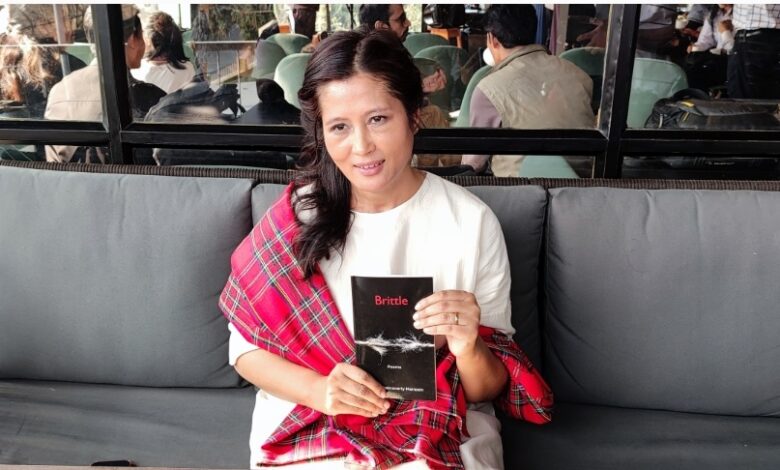 Shillong, March 8: Singer Lou Majaw  has released Riniki Chakravarty Marwein's 'Brittle', her debut poetry book, on Wednesday.
Marwein's  brittle is a collection of poems around childhood and family, love, loss, and memory; and how she dealt with the challenges of the pandemic.
The most significant and smallest poem in the book is titled "A Pandemic Weekend Haiku"
"I got pretty nostalgia-struck during the lockdown. My childhood and the time spent in India kept roaming in my head in flashback-forms over and over again. I was home-belted like everyone else and very worried about my loved ones. It got kind of scary, so I had to find a way to let my anxiety out. This is when I started writing the book and I can't believe it is finally published."
Marwein added, "Nostalgia, for me, is always connected to intimacy maintenance: I want to remind myself of the people and places, and what they meant to me. For eg: some poems in my book do have elements of loss, longing, and sadness, but that also reflects the positive experiences – such as how close we are as a family."
The book launch was followed by an engaging discussion between Marwein and the audience on poetry, music, inspirations, and other subjects.
Majaw, in his trademark denim shorts, leather wrist bands and mismatched socks, recited some of the poems from Brittle along with Riniki, and performed songs for the crowd that gathered in support of the launch.
Ending the event on a high note and praising the author, Majaw said, "I bought Brittle last month from an e-commerce site. I loved all her poems;each so poignant and beautiful, however, a particular composition 'Sired Evening' caught my attention. It's a simple poem but quite moving and introspective at the same time. There's something about poetry that actually transcends everything else, just like music. I'm so glad to be a part of this beautiful occasion today."
Brittle is currently available on all leading e-commerce platforms and at select bookstores across the country.
The poet was born in Shillong and completed most of her education here. She spent most of her career in the PR industry in Mumbai before moving to Singapore in 2008. She holds a Master's Degree in Mass Communication and Journalism. Riniki has been writing poems since the pandemic.