Shillong,Oct 9:The body of trainee mountaineer Tiklu Jyrwa, who died in an avalanche in Uttarakhand, was brought home on Sunday.
The mortal remains arrived at his residence in Upper Lumparing around 8.15 pm.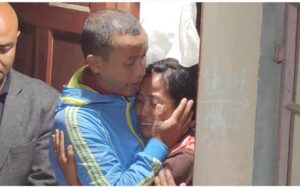 Relatives, neighbours and friends gathered at his residence with tears and prayers.
Besides an official of sports department, Mountaineer Wallambok Lyngdoh, who is also the brother-in-law of Jyrwa, accompanied the mortal remains from Uttarakhand to Shillong.
Lyngdoh informed that the funeral will be heldy at Presbyterian church cemetery, Lumparing on October 11 at 1 pm.
Identifying bodies 
After identifying the body of Jyrwa, Lyngdoh wanted to know the identity of other victims.
"I identified one of the victims as Deepshikha Hazarika from Assam who was part of many expeditious with me and others", Lyngdoh said.
To a question on Jyrwa's contribution, Lyngdoh said, "I have been informed by instructors that Tiklu Jyrwa was one of the best and toughest trainees and he has been nominated for best trainee of the course".
Jyrwa, 40 other trainees of Advance Mountaineering Course besides the instructors of Nehru Institute of Mountaineering (NIM), Uttarkashi, had gone missing on October 4 after an avalanche struck them while returning from the summit of Mt Draupadi Ka Danda II at Uttarakhand.
Jyrwa, a member of Meghalaya Sport Climbing and Mountaineering Association (MeSCMA), was sponsored by the Directorate of Sports and Youth Affairs through MeSCMA for the advance mountaineering course.