Headlines
Sunday Monitor
Music, magic & history of the hills
Tri Hills Ensemble in city promotes tribal culture, traditions & cuisines of Khasi-Jaintia-Garo Hills
The colours and beats of the three hills — Khasi, Jaintia and Garo — commingled at the festival that was organised by the Ministry of Tribal Affairs and the Department of Arts and Culture on October 14-15.
The Tri Hills Ensemble in the city featured traditional dance, music and food and also saluted the achievements of locl artistes, artisans and craftsmen. The festival — which was celebrating the country's 75 years of independence and Meghalaya's 50 years of statehood — started with the unveiling of the statues of three freedom fighters from the state, Tirot Sing, Kiang Nangbah and Togan Sangma. An animated publication on the unsung heroes was also released on the day.
"It is a celebration of the unique and vibrant culture of the the two regions Khasi-Jaintia and Garo Hills regions, and the 3 geographical hills of Khasi, Jaintia and Garo that together make up Meghalaya. Meghalaya's essence has always been rooted in nature, connected to culture — Tri Hills seeks to capture and celebrate this unique essence through crafts, cuisines, culture, costumes, dance, drama and other culturally unique delights," said Arts and Culture Commissioner and Secretary Frederick Roy Kharkongor.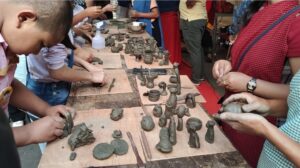 The first traditional dance performance of the day was by Raid Mawja from Pyrnai, East Khasi Hills followed by a mellifluous rendition of a Khasi song by Morealda Phaswet and group from Jaintia Hills. Notes of A'rongga, a folk-fusion band from Garo Hills led by Tengnang D. Sangma, kept the audience entertained with their music. The band uses traditional instruments like chigring (bamboo string device), chapcheng (cymbal) and dugang (wind instrument made of bamboo) and fuses the indigenous beats with blues and rock.
Artistes from Ri Bhoi, East Khasi Hills, West Jaintia Hills and Garo Hills presented their respective traditional dances. The performers from Umkaduh presented Krud Lyngkha, the harvest song, followed by Ngoh Krai (Wahkhen), Shad Mastieh (Darrang) and Ruga dance, or spirit dance from Garo Hills. There were singers from Jaintia Hills, Pynursla and Ri Bhoi who presented Pnar and Khasi songs.
Addressing the gathering during the inaugural function, Chief Minister Conrad K Sangma said the current year is "very significant as India celebrates 75th Anniversary of Freedom and Meghalaya celebrates 50th anniversary of statehood".
"It is in the right earnest that we are having a cultural programme of this kind for two days to not just celebrate our culture, but also to recognise the fact that we have touched 50 years as a state and have also touched 75 years as a country," he added.
Sangma asserted that everyone, especially the younger generation, should be made aware of the culture and roots. "These two days are not just simply a celebration of the different cultures that we have but it's more of a reminder and mechanism for us to ensure that the younger generation do not forget who they are and be proud of our roots but at the same time respect other cultures," he said.
On Day 2, the footfall was high and visitors included both locals and foreign tourists. The traditional fashion show featuring jainkyrshah, a wraparound apron commonly used by women in Khasi Hills, was an attraction. The festival concluded with the songs of Summersalt.
Six feathers in the cap
The highlight of the festival was recognition of six art and crafts villages across the state. The villages in Khasi, Jaintia and Garo Hills have their traditions of traditional woodscraft, weaving, painting and music.
Amindagre in West Garo Hills is known for its living wood museum; Tangmang in East Khasi Hills is home to several shken (cane) weavers who are mostly women; Wakhen is the heritage music village in East Khasi Hills that has produced award-winning artistes like Komik Khongjirem and Rojet Buhphang who started the Sieng Riti Music Institute; Larnai in West Jaintia Hills is home to black clay pottery where artisans make the earthen vessels without using the potter's wheel; Mairang in Eastern West Khasi Hills is the art district that has produced several renowned artistes who have taken their woodcrafts and printmaking to the national and international levels; and
Pahambir in Ri Bihoi is the abode of folklores.
"We hope that this recognition will spur them to global standards, while retaining their local spirit and enabling economic stability through art and crafts," said Kharkongor.
The chief minister assured that the state government would provide financial support to the six villages so that they can continue the good work that they are doing and "we will ensure that this kind of reward and recognition is done annually".
Sangma also mooted the idea of using technology and creating database so that information about the history, culture and tradition can be accessed. "While we are ensuring that we preserve our culture and tradition and pass it on to the young generation it is also important to see how we could use this in order to enrich the experience of the different tourists who come into our State which would then become a USP for the state," he added.
The food & disappointment
The festival venue had an elaborate food court that displayed delicacies and beverages from all parts of the state. There was traditional rice beer from Khasi-Jaintia Hills and bitchi from Garo Hills. There were shops selling handicrafts by local artistes and cane and bamboo products. The area was elegantly decked up with bamboo stools and tables. Cane lamp shades hanging from trees added to the ambience.
The venue also displayed short history about the freedom fighters for visitors to know them better.
However, what was disappointing was that there were not many takers for the traditional performances as most of the visitors were flocking the food stalls and the auditorium was near empty when artistes from faraway villages showcased their culture and practices.
When asked, Kharkongor said open air performances could be a possibility and can be explored but the unpredictable weather condition could have been a deterrence.
However, "seeing the positive response this year, we will try to have a second edition as well", he added.
As the state completes a milestone and readies to embark on another journey towards modernisation, development and growth, it becomes important for all citizens to take forward the legacy of their respective tribes and uphold their traditions. The Tri Hills Ensemble was an occasion to know more about the state's history and culture. More interactive sessions like traditional music competitions for youngsters and quiz on the history, geo-politics and demography of Meghalaya would help in enriching the fest.
~ Team Sunday Monitor
Photos by MM & Government of Meghalaya