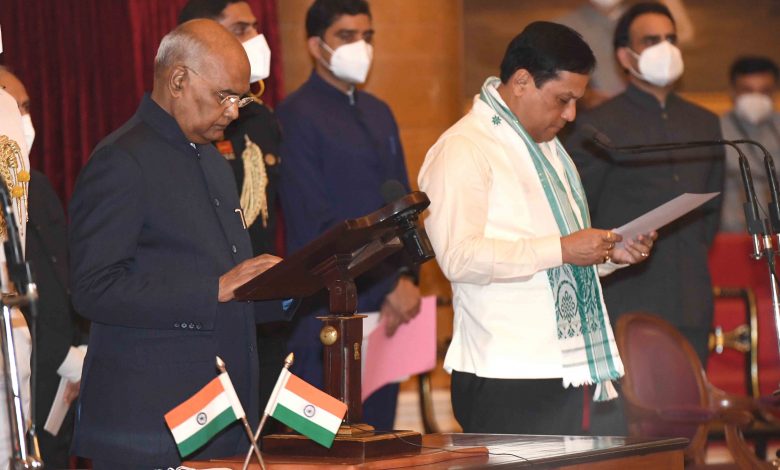 New Delhi, July 7 (UNI): The North East gained prominence in the Union Cabinet after the BJP-led NDA government reshuffled it on Wednesday.
Four leaders from the region — Sarbananda Sonowal, former chief minister of Assam, Kiren Rijiju, MP from Arunachal Pradesh, Pratima Bhoumik, MP from Tripura, and Manipur MP Rajkumar Ranjan Singh — got Cabinet berths in Wednesday's reshuffle that saw heavyweights losing portfolios.
Sonowal's quick rise from being a regional leader in Assam to being a minister in Prime Minister Narendra Modi's cabinet is worth a study. Five years after he switched to BJP from the Asom Gana Parishad, 53-year-old Sonowal became the first BJP chief minister of Assam in 2016. At present, he is an MLA from Assam's Majuli constituency.
The leader, who was sworn in as Union minister, was rewarded for being a BJP loyalist and keeping his composure despite losing the chief minister's office to Himanta Biswa Sarma.
Modi promoted Rijiju, among others, Cabinet rank. Rijiju was the minister of state for Youth Affairs and Minority Affairs.
Dr Rajkumar Ranjan Singh (68), who had won the 17th Lok Sabha polls from the Inner Manipur seat, took oath in the Union Cabinet on Wednesday.
Born to Rajkumar Nilamani Singh and Ningthemcha Ongbi Achoubi on Sep 1, 1952, at Kongba Nandei Bamleikai, Imphal East, Manipur, Singh passed MA (Geography), BT and PhD at Guwahati University in Assam.
Post his studies, he served as a member of the standing committee on Science and Technology, Environment and Forests, Rules Committee and Consultative Committee, Ministry of Development of North Eastern Region. Prior to his political career, he had a four-decade-long career as and Geography Professor, ending as Director of College Development Council in Manipur University.
Tripura after independence represented for the first time by a daughter of the soil in the union council of ministers. Bhoumik is the first time MP elected in 2019 as BJP nominee, a down to earth politician who comes from a humble background who practised farming in her native village in the bordering town Sonamura of Sepahijala district in West Tripura. She graduated in life science from Women's College of Agartala.
Tripura has been represented in the union council of ministers only twice before Bhoumik after a merger with the Indian union in 1949.
Former Vice-Chancellor of Jadavpur University Dr Triguna Sen had been nominated as a member of Rajya Sabha from Tripura twice in 1967 and 1968. Later on, he became the Union minister for education.
Afterwards, Congress stalwart of Assam's Barak Valley Late Santosh Mohan Deb had been elected twice from Tripura in 1989 and 1991.
Modi inducted three dozen fresh faces while dropping 12 ministers, including heavyweights Harsh Vardhan, Ravi Shankar Prasad and Prakash Javadekar.
In all, 43 ministers were sworn-in — 15 of Cabinet rank, the remaining 28 as ministers of state — by President Ram Nath Kovind at a ceremony at the Rashtrapati Bhavan.
Omission of senior leaders, which also included Ramesh Pokhriyal and Santosh Gangwar in the first-ever Cabinet reshuffle since Modi assumed charge for a second term in May 2019, was a surprise.
Vardhan and his junior minister Ashwani Kumar Choubey were asked by the Prime Minister to step down.
The devastating second wave of Covid-19, shortage of medical oxygen and irregular supply of anti-Covid-19 vaccines have left the government in an embarrassing situation.