National
Nitish pleads ignorance about JD-U's Cabinet seats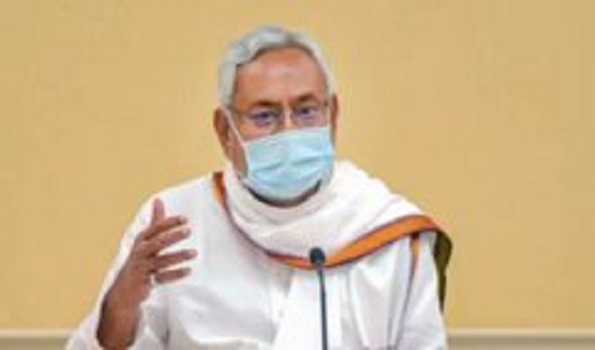 Patna, July 6 (UNI): Setting aside the discussions in the political corridors about possible Cabinet expansion, Bihar Chief Minister Nitish Kumar on Tuesday pleaded ignorant about it saying that the party national president RCP Singh has been authorised for it.
After conducting an aerial survey of the flood-affected areas of the state, Kumar told newspersons here that he was totally unaware of the possible expansion and the formula being adopted for it.
Replying to the queries of the media persons, Kumar said he had no idea about the formula for the JD(U) joining the Union Cabinet and number of seats it would be getting in the expansion.
Kumar said he had already quit the post of national president of the party and now RCP Singh was on the post and was responsible for all such issues.
Retorting sharply over his previous statement for not joining the Modi cabinet, Mr Kumar said that the statement was issued when he was national president of the party but the situation has now changed.
Kumar reiterated that his focus was only to serve the people of Bihar and maintained that the Janata Darbar would be resumed from July 12 and he would personally look into the problems of the people.
Speaking about the flood situation, the Chief Minister said that the amount of floodwater in the month of July was surprising as such a situation previously used to take place in the month of August and September.
Kumar said he conducted an aerial survey of 5 districts during the day and would be conducting an aerial survey of three districts tomorrow after which he would discuss the situation with the senior authorities to finalise the future strategies.