National
No Eid prayers in Kashmir's historic mosques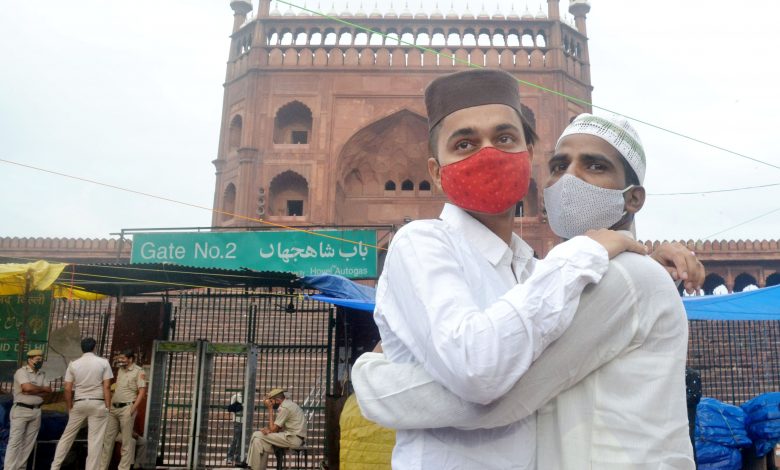 Srinagar, July 21 (UNI): No Eid-ul-Adha prayers were offered in the historic Jamia Masjid, Assar-e-Sharief Hazratbal and other main shrines and worship places in the Kashmir valley to prevent further surge in the Covid-19 positive cases.
However, people in local mosques offered prayers maintaining social distance besides wearing masks in Srinagar and other parts of the valley.
According to official reports, 53 new corona positive cases were reported on Tuesday in the Kashmir valley, where one patient also died.
All congregational prayers in the Jamia Masjid remained suspended for the past more than two months to prevent spread of coronavirus. This decision was taken by Anjuman Auqaf Jama Masjid (AAJM), headed by moderate Hurriyat Mirwaiz Moulvi Omar Farooq, under house arrest since August 5, 2019. No Eid-ul-Adha prayers were held in the Jamia Masjid, officials of the management body told UNI today.
He said all congregational prayers, including Friday's, remained suspended in the mosque for the past more than two months.
All gates of the historic Masjid remained closed for devotees, they said, adding decision to reopen the grand mosque will be taken only after consulting experts and officials.
This is the third successive year Eid-ul-Adha prayers were not held in Jamia Masjid. Last year, no prayers were held due to Covid restrictions while in 2019 there were curfew restrictions in the entire Kashmir valley after the Centre abrogated Article 370 and divided J&K into two Union Territories (UTs) on August 5.
Large number of security forces and police personnel have been deployed outside the Eidgah in the down town since early this morning to prevent people from offering any Eid prayers. Nobody has approached to offer prayers in the Eidgah since it was also raining since this morning besides Covid-19 guidelines, security force personnel deployed told a UNI correspondent.
The Wakf board has also suspended prayers in 133 shrines and other worship places under its management in view of the Covid-19 pandemic.