Shillong, March 8: The problem of garbage disposal was discussed in the Assembly on Tuesday with the Opposition raising concerns.
The garbage dumping in the city, Jowai and elsewhere in the state was raised by the members.
The Leader of Opposition, Mukul Sangma wanted to know what is the priority of the government if the government cannot address waste disposal.
Congress legislator from Mawlai, PT Sawkmie said his constituency is also facing problem as there is only one garbage dumping ground in Mawlong which is overflowing.
HM Shangpliang , while raising the garbage dumping issue in Jowai, said the government should take immediate steps for waste management on Jowai town.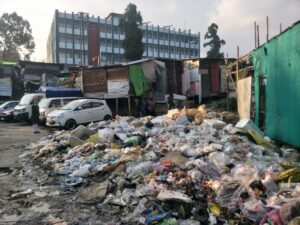 He showed a picture of garbage dumped near the DC's office in Jowai on Tuesday morning.
Later, Urban and Municipal  Affairs Minister Sniawbhalang Dhar said efgorts are on to sensitise people on waste management in Jowai town.
There is a proposal for an alternative landfill site and a public hearing was held in this regard  on March 4 , he said.
The minister said the government is committed to resolve the matter in other parts of the state.
He also said three alternative sites-two in West Jaintia Hills and one in East Jaintia Hills-have been identified.