State
Police warn FB group members over anti-lockdown post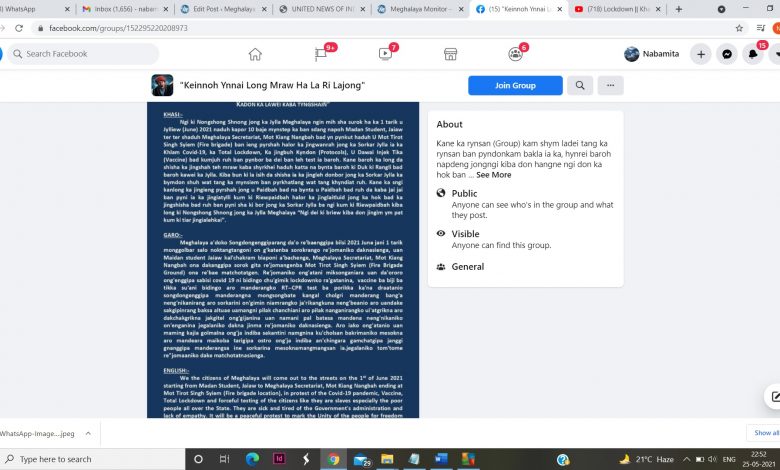 Shillong, May 25: The East Khasi Hills district police has threatened the administrator and members of a Facebook group with legal action after a post opposing the lockdown went viral on social media.
The social media group, Keinnoh Ynnai Long Mraw, posted on Monday calling all citizens to take to the streets on June 1 in protest against the lockdown and other government measures to check the spread of Covid-19.
The post, written in Khasi, Garo and English, said, "We the citizens of Meghalaya will come out to the streets on 1st of June, 2021 starting from Madan Student, Jaiaw to Meghalaya Secretariat, Mot Kiang Nangbah ending at Mot Tirot Singh (Fire Brigade location), in protest of the Covid-19 pandemic, Vaccine, Total lockdown and forceful testing of the citizens like they are slaves especially the poor people all over the state."
"It will be a peaceful protest to mark the Unity of the people for freedom and to show the government that "We the people are humans and not tools"," it added.
In a statement issued on Tuesday, the office of the superintendent of police said it has "identified the Admin and members of this group some of whom have been summoned to Police Station on the matter and warned of legal action if corrective steps are not taken".
The number of cases in the state on Tuesday was over 900 (see more).
The statement from the SP office, while urging citizens to act responsibly, said, "Due to high incidence of Covid-19 cases and rise in deaths, such an irresponsible step would lead to violation of the lockdown which is meant to control the pandemic and will only be risk to the health and lives of many."