Headlines
Pressure groups meet Hek ahead of Shah's visit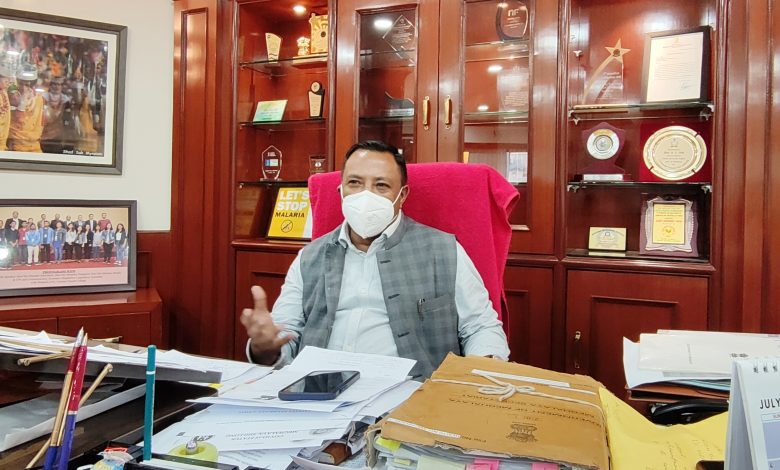 Shillong, July 22: The pressure groups, who are eager to meet Union Home Minister Amit Shah in Shillong to discuss ILP, met BJP Minister AL Hek on Thursday to pursue the matter.
Shah will visit the state on July 24 and 25.
Hek told reporters that he met a few NGOs and they have requested him  for an appointment with the union home minister.
"I am trying my best to see how they will fit in. Tomorrow I will also talk to the Assam CM Himanta Biswa Sarma so that some time is given to the NGOs to put their points of demands before the home minister," he said.
Hek refused to comment on the stand of the NGOs that they may be compelled to resort to stern action if the union home minister denies them audience.
Confederation of Meghalaya Social Organizations (CoMSO) and Hynniewtrep Integrated Territorial Organization (HITO) met Hek.
CoMSO chairman Robertjune Kharjahrin said they have sought the intervention of Hek as a senior BJP leader since they are yet to get any confirmation whether they will be allowed to meet the union home minister or not.
Kharjahrin said the organisations want to meet Shah to apprise him on the various important issues of the state which include the need to implement the ILP, border dispute, inclusion of Khasi language to the Eighth Schedule and amendment to the Sixth Schedule of the Constitution of India.
"We also requested Hek as one of the senior BJP leaders to impress upon the union home minister on the genuine demand of the people for implementation of ILP and also to once and for all settle the long pending boundary dispute between Assam and Meghalaya," Kharjahrin, who is also the president of the Hynniewtrep Youth Council, said.
The CoMSO leader said that the BJP leader will carry the message and expressed hope that they will be able to meet the union home minister.
"We are very much prepared to voice the genuine demand of the people of the state in case an appointment is given to meet him," he said.
Kharjahrin  informed that the CoMSO had also met and lobbied with the leaders of different political parties – NPP, UDP, HSPDP, PDF and BJP – that they should speak the voice of the people.
"We hope that they will carry the message," he said.
As per his tentative programme, Shah will inaugurate the Inter-State Bus Terminus (ISBT) at Mawiong and the Cryogenic Plant at Umsawli on July 24, an official statement said on Thursday.
The union home minister will also visit Sohra on July 25 to inaugurate the afforestation project at Wahshari and Greater Sohra Water Supply Scheme at Khliehshnong near Ramakrishna Mission.