National
Rupani quits as Gujarat CM; suspense over successor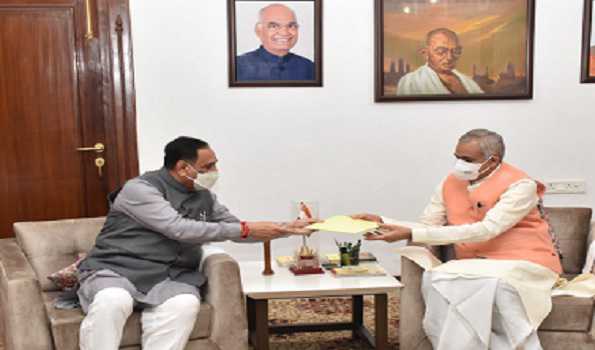 Ahmedabad, Sept 11 (UNI): In a major surprise, Vijay Rupani resigned as the Gujarat chief minister on Saturday, just over a year ahead of the Assembly elections in the state and against the backdrop of criticism of his handling of the crisis situation that developed due to the Covid second wave earlier this year.
The sudden resignation led to speculation on who could be the successor even as the BJP convened a meeting of state party legislators tonight to discuss the issue and possibly choose the new leader.
Rupani submitted his resignation to the Governor at the Raj Bhavan in the presence of senior party leaders, including Bhupender Yadav, Mansukh Mandaviya and Parshottam Rupala. Deputy Chief Minister Nitin Patel was also present.
Rupani's resignation came as a surprise as he had participated in a programme this morning which was virtually addressed by Prime Minister Narendra Modi.
After submitting his resignation, the 65-year-old BJP leader, who represents Rajkot West assembly constituency, told reporters that he had voluntarily resigned.
He thanked PM Modi for giving him the opportunity to have a journey of five years as CM.
"It is well-known that the BJP keeps changing (CMs) as per requirements," Rupani said, describing it as a speciality of the party that "every worker delivers to the fullest".
"I too will continue to work for the party with the same energy," he said.
Rupani, who served as the Chief Minister for five years, had been hand-picked by Modi to rule his home state by cutting short the tenure of Anandiben Patel in August 2016.
However, during the second wave of Covid in April-May this year, Rupani's government came under severe criticism over handling of the crisis situation.
The state is slated to have Assembly elections towards the end of next year.
Significantly, Rupani's predecessor Anandiben Patel too had to give up Chief Ministership at the bidding of the high command in the wake of agitation by the Patidar community over reservation.
With Rupani quitting, Gujarat has become the third BJP-ruled state where the incumbent resigned before completing their terms in the office in the recent months.
Earlier, BS Yediyurappa had put in his papers as Karnataka Chief Minister on July 27 to pave the way for new leadership.
Weeks before that, Tirath Singh Rawat also resigned on July 3, just months after taking over as Chief Minister of Uttarakhand.