Headlines
Situation under control in border but electric polls still uprooted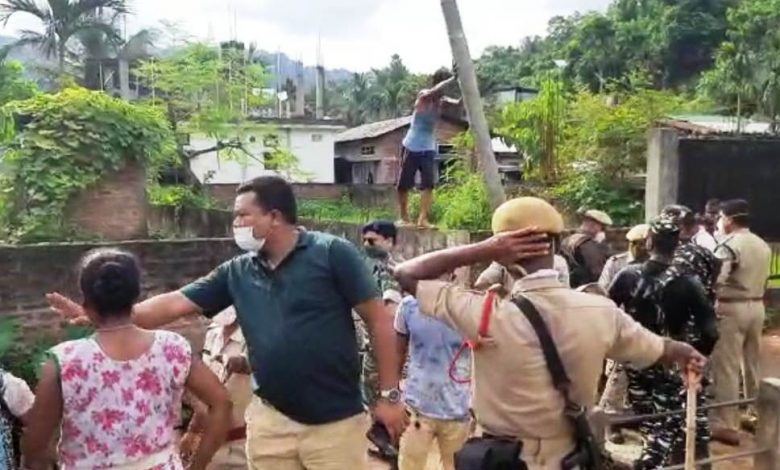 Shillong, July 26: The situation at Iongkhuli village in Ri Bhoi district is under control after the clash between the villagers and the Assam police on Monday but the electric poles remained uprooted.
In a statement, the Assistant Inspector General of Police (A) Gabriel K Iangrai said that the situation is under control and there have been no reports of any untoward incidents.
He said the Meghalaya Energy Corporation Limited (MeECL) erected electric poles in Iongkhuli village on the same stretch where Assam Electricity Board had erected electric poles in January 2021.
At around 11 am, the Magistrate of Batistha Circle from Assam accompanied by senior police officials and a sizable police force came to the spot and dismantled the erected poles.
Iangrai said the action of the magistrate and the Assam police was met with stiff resistance from the people of the village, who protested against the unwarranted stand of the Assam officials.
He said the officials of Meghalaya comprising Additional District Magistrate, Superintendent of Police, Officer-in-Charge of Khanapara police station and officer in-charge Pillangkata out post immediately proceeded to the spot to address the matter and discuss the issue with the officials of Assam.
MDC comes to rescue; manhandled   
Earlier during the incident, the KHADC member Charles Marngar was manhandled by the Assam police after he intervened to prevent the removal of MeECL poles along with the local residents as the Assam police personnel were adamant.
The Assam officials claimed that the place where the MeECL had erected the electricity poles is under Assam but the Meghalaya villagers refuted it by saying that it was illegal encroachment by Assam.
The residents were supported by the Meghalaya People Social Organization (MPSO).
During the incident, the Assam police and district officials of Kamrup refused to listen to the request of the Ri Bhoi Additional Deputy Commissioner R Kharbihkhiew and SP N Lamare and went ahead with their action.
Iongkhuli village is  under the Jirang constituency and Raid Marwet of Hima Mylliem.
Marngar condemned the action of the Assam police and demanded the state government to take up the matter seriously to ensure such illegal encroachment by Assam is not allowed.