National
Soldier, 2 militants killed in Shopian gunfight
NIA arrests four in terrorism conspiracy case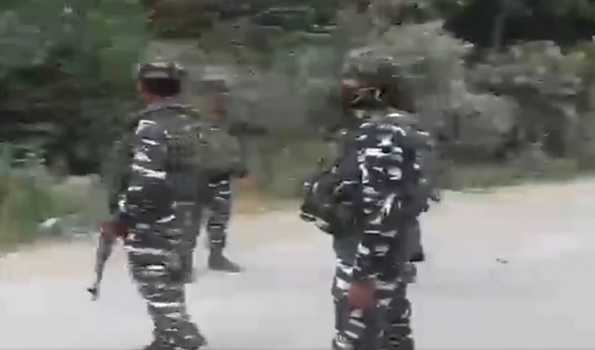 Srinagar, Oct 20 (UNI): A soldier of Army's counter insurgency unit was killed in a gunfight in south Kashmir's Shopian district on Wednesday that also left two Lashkar-e-Toiba militants dead, including a top commander who was involved in the killing of a migrant worker from Uttar Pradesh in Puwlama, police said.
The gunfight between militants and security forces erupted in the morning when joint teams of police, army and CRPF launched a cordon and search operation at Dragad in the district following an input about militant presence.
"During the search operation, as the presence of terrorists got ascertained, they were given repeated opportunities to surrender; instead they fired indiscriminately upon the joint search party which was retaliated leading to an encounter. In the ensuing encounter, two terrorists were killed," a police spokesman said in Srinagar.
"During the exchange of fire, three Army jawans also sustained bullet injuries and were shifted to nearby hospital for the treatment, however, one among them namely Sepoy Karanveer Singh succumbed to his injuries and attained martyrdom," he added.
The slain militants were identified by police as Adil Hussain Wani, a resident of Shirmal who was the district commander of Lashkar-e-Toiba (The Resistance Front) and Shakir Ahmad Wani of Litter Pulwama.
Meanwhile, the National Investigation Agency (NIA) on Wednesday arrested four more suspects in connection with J&K Terrorism Conspiracy case, taking the total number of arrests in the case to 13.
The case pertains to hatching of conspiracy by various militant groups for undertaking violent terrorist acts in J&K Union Territory and other major cities. Last week, the NIA had arrested nine suspects who were allegedly having links with militants during the probe of the case.
A spokesperson of NIA said they conducted searches at 11 locations in Srinagar, Pulwama, Kulgam and Baramulla Districts of Jammu and Kashmir on Wednesday and arrested four persons.
The four arrested were identified as Suhail Ahmad Thokar of Kulgam; Kamran Ashraf Reshi of Hazratbal, Srinagar; Rayid Bashir of Srinagar and Hanan Gulzar Dar of Srinagar.