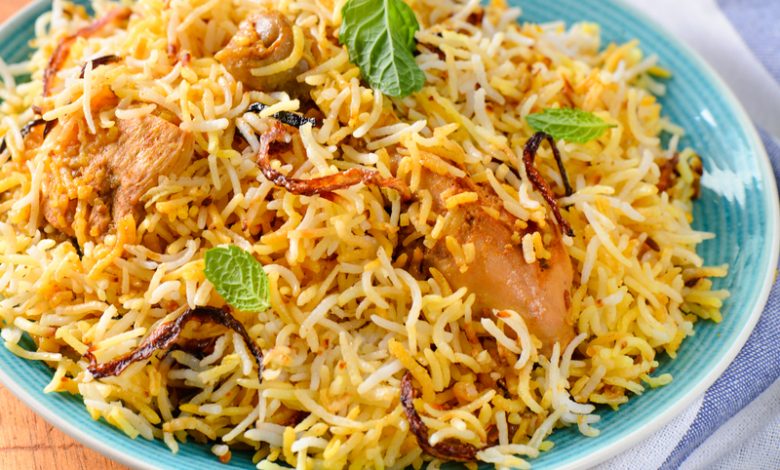 INSIDE HIS KITCHEN
Wondering what to cook this weekend? Let us go grand this Sunday. This week, let us try Chicken Awadhi Biryani. The recipe is not as complicated
as you may think and can be
made in a few simple steps. So,
put on your chef hats and follow the simple steps.
Ingredients
For chicken
1kg chicken; 150 ml of oil; 250 gm of onions; salt as per requirement; 1 tablespoon of ginger paste; 2 tablespoons of garlic paste (watery consistency); 4-5 cardamoms; 4-5 cloves; 1 cinnamon stick; ½ nutmeg; 2-3 teaspoons of chilli powder; 120 gm of curd; 2 tablespoons of rosewater; 5 drops of sweet attar; 180 ml of milk; a generous pinch of mace powder (javitri), cardamom powder and dissolved saffron; 1 tablespoon of kewra water.
For rice
500gm of basmati rice; 3 litres of water; 3 tablespoons of salt; 1-2 green chillies; 3-4 cardamoms; 3-4 cloves; a dash of oil; 3 tablespoons of saffron dissolved; dough for sealing.
How to make it
In a deep vessel, add oil and fry sliced onions till they turn brown. Add chicken and cook for 2-3 mins. Now add ginger paste and garlic (watery) and cook for a minute. Stir for two minutes and then add cinnamon, cardamon, cloves, smashed nutmeg and salt. Now add red chilli powder and sauté. Add whisked curd and cook till it gets a boil. Add kewra and cook on low flame till chicken is half cooked and oil surfaces.
Turn off the heat and add milk. Remove the chicken using a tong and keep aside. Strain the curry. Skim off the oil from the curry and keep it aside.
Add kewra, meetha attar (optional) to it along with javitri, cardamom powder and dissolved saffron. In a separate vessel, boil water and add salt, cardamom, cloves and green chilli. Add a dash of oil and give a good boil for five minutes. Now skim all the spices and add the rice.
Cook rice till ½ done and in a separate container, add the chicken with the curry and add the ¾th cooked rice on top.
On top of the rice, add the skimmed oil that was kept aside and dissolved saffron. Cover with a tight-fitting lid and seal with the dough from the sides. Cook on high heat for a minute, now lower the heat and cook on dum for 12-15 minutes.
Remove from heat and let
it sit for 10 minutes before
opening the lid. Serve hot with raita.
~ MD ENAMULLA KHAN (ALI),
Corporate Chef