North East
Trinamool stir in Tripura ahead of Abhishek's visit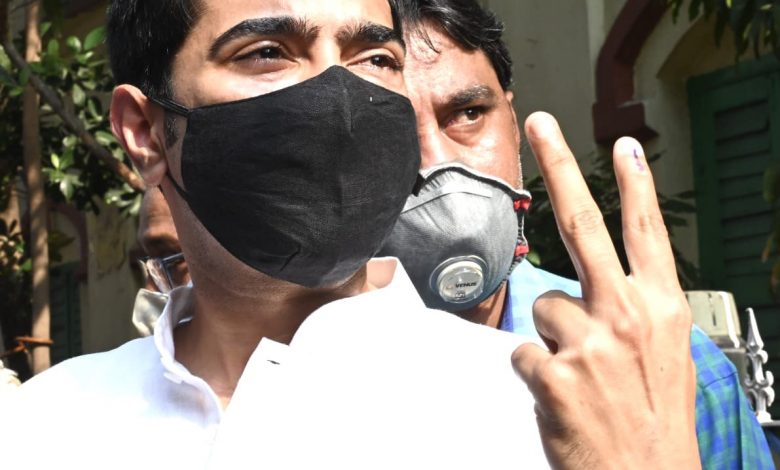 Agartala, July 29 (UNI): Trinamool Congress supporters on Thursday, a day before the arrival of the party's national general secretary Abhishek Banerjee in Agartala, staged demonstration across the state against the ruling BJP in Tripura accusing them of perpetrating atrocities on opposition and not allowing the party to carry out their activities.
Police have arrested as many as 40 supporters of TMC in Kanchanpur of North Tripura for holding an illegal assembly on Thursday while three persons were injured in Dharmanagar on Wednesday for holding similar rally violating Covid-19 restrictions, TMC state in-charge Ashis Lal Singh said.
He alleged that BJP goons and Tripura police have been targeting him and a few other leaders of the state raising voice against the BJP-led government and said, "Police is conspiring to frame false cases against Trinamool workers here and the leaders come from West Bengal. Our leaders are not allowed to meet the workers."
According to report, former Vice President of BJP Subal Bhowmik who had left the party before 2019 general elections and joined Congress will join Trinamool to head the party here along with a large number of his followers. A large number of leaders of ruling BJP annoyed with Chief Minister Biplab Kumar Deb and the performance of central leadership have been in contact with the Trinamool, sources claimed.
Ritabrata Banerjee, party's Rajya Sabha leader Derek O'Brien and Lok Sabha MP Kakali Ghosh Dastidar who have already reached Tripura to oversee the preparation of Banerjee's visit.
Despite obstructions from Tripura government Trinamool leaders have held several meetings with the district level leaders of the party and issued instructions for intensifying agitation against the ruling BJP and shared political tips for strengthening the organisation, Trinamool leaders claimed adding that they have been assured full support for dislodging the government here.
While talking to media, Trinamool MP Derek O'Brien lashed out at Deb for mobilising police against the independent research body I-PAC and said, "I-PAC is a research organisation running with top brains of IITs and IIMs. Unfortunately, these young guys were falsely implicated by Tripura police getting scared of Trinamool, which we shall not leave here."
He indicated that Trinamool supremo Mamata Banerjee has set the target to win Tripura in 2023 assembly polls as a dry run to 2024 general elections.
I-PAC team granted bail
The Chief Judicial Magistrate of West Tripura on Thursday granted unconstitutional bail to 23 members of poll strategist Prashant Kishore's Indian Political Action Committee (I-PAC) research group who were served notice accusing them of violating Covid protocol and charged under Disaster Management Act and section 188 of IPC.