National
Ukraine finds mention in India-Denmark joint statement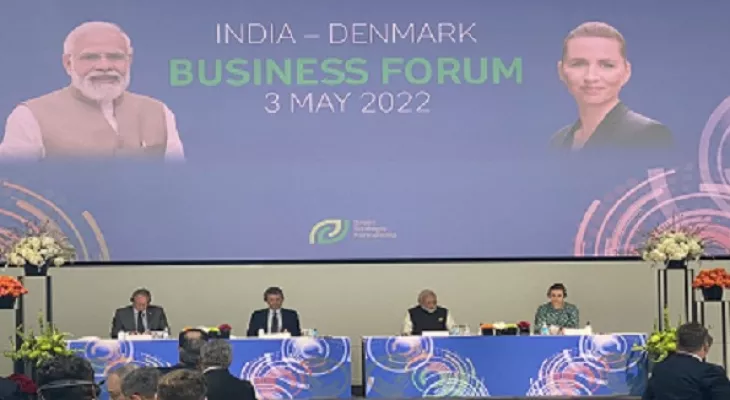 Copenhagen/New Delhi, May 3 (UNI): The Ukraine conflict found prominent mention in the India-Denmark joint statement, with the Danish side expressing its strong condemnation of the "Russian aggression" as both sides agreed to remain closely engaged on the issue.
Prime Minister Narendra Modi and his Danish counterpart Mette Frederiksen also expressed hope for early conclusion of the India-EU FTA negotiations.
On Ukraine, the joint statement said the two Prime Ministers exchanged views on current regional and global developments including the conflict in Ukraine, the situation in Europe and the Indo-Pacific region. The Danish Prime Minister reiterated Denmark's strong condemnation of the unlawful and unprovoked aggression against Ukraine by Russian Forces.
The two Prime Ministers expressed their serious concern about the ongoing humanitarian crisis in Ukraine. They unequivocally condemned civilian deaths in Ukraine. They reiterated the need for an immediate cessation of hostilities. They emphasized that the contemporary global order has been built on the UN Charter, international law and respect for sovereignty and the territorial integrity of states. They discussed the destabilizing effect of the conflict in Ukraine and its broader regional and global implications. Both sides agreed to remain closely engaged on the issue.
The two Prime Ministers emphasized the importance of the India- EU Strategic Partnership and reaffirmed their commitment to further strengthen this partnership. They appreciated the progress in restart of negotiations on the India- EU Trade, Investment and Geographical Indicators Agreements and called for a balanced, ambitious, comprehensive and mutually beneficial approach and an early and simultaneous conclusion.
They also agreed to support efforts towards early implementation of the India-EU Connectivity Partnership. On the Green Strategic Partnership, the two PMs agreed to further strengthen cooperation within the renewable energy sector and welcomed work on a comprehensive Energy Policy Dialogue in India and Denmark, with a focus on green hydrogen, integration of renewable energy, energy storage and decarbonisation.
They welcomed discussions towards an Energy policy Dialogue at Ministerial level, the statement said. In the field of safe and secure water, the two sides looked forward to the early signing of a MoU between the Ministry of Jal Shakti and the Danish Environment Ministry to enhance the existing cooperation and launch new initiatives, including a Smart Laboratory on Clean River Water in Varanasi and a Centre of Excellence on Smart Water Resources Management.