Feature
Sunday Monitor
Wasteful to useful: Changing the way of life
Team Project Clean Surrounding believes in holistic change
Jefferson Kynjing is immensely proud of the pristine hill city he grew up in. All he wants is to make the city a cleaner and better place for his children. Two years ago, when he stepped on a plastic water bottle at Polo Stadium, he decided to solve the problem of littering in the city his way.
"I had averted an accident inside the stadium. I tripped on the empty bottle and was about to fall. The plastic bottle changed my perspective. I decided to do something but was not sure how," Kynjing recollected.
Project Clean Surrounding started as an initiative to keep the immediate neighbourhood clean. Kynjing, along with a few friends, would go around their neighbourhood to collect plastic bottles and empty alcohol bottles disposed along the road. Soon, the initiative spread to other localities.
"Initially, I would feel shy to collect bottles. Gradually, I shed all inhibitions because I knew it was for the future generation," said Kynjing.
Kynjing, an alumnus of St Edmund's School, would go around the city and collect empty bottles and plastic waste. The project started as an individual initiative. He would carry a garbage bag with him wherever he went and pick up the trash that people dumped mindlessly. With time, he found several others joining hands to help him clean the city.
Two years on, Kynjing's Project Clean Surrounding has become a source of livelihood for many recovering alcoholics and single mothers. The team collects the garbage and the money it gets from selling the empty bottles goes to the members.
"I don't take share from the money that we get from selling the bottles. Some members of the project were unemployed and this project has given them some source of income," said Kynjing as he accumulated the day's collection.
"But we do not work for money. Our purpose is to keep the city clean, and by making a change, influence more citizens to do it," he added.
Kynjing wanted 0a holistic approach to the project. So, he and his team started planting saplings wherever they went for cleaning. Besides, he started using the organic waste for growing vegetables. Now, Kynjing and his wife, Apokla Jamir Kynjing, have a flourishing fruit and vegetable garden on their premises.
Jamir uses plastic cups, broken pots and rubber tyres to plant a variety of herbs and vegetables. "We grow almost everything. There are cabbages, potatoes, herbs like rosemary and parsley, bamboo shoot, carrots, radish, leafy vegetables etc," she said. The conversation stopped as she got busy tending to the herbs growing in small pots which lined one side of the frontyard.
All the vegetables are organic and Kynjing is trying to get a certificate for the produce. He also sells the garden produce in front of the house. When the Sunday Monitor team met him one evening, Kynjing, along with other members of Project Clean Surrounding, was busy arranging the boxes of vegetables near the gate.
"These are all from my garden. The cabbages are still there. You see those plastic cups. We had collected those from roadside. My wife is using them to grow herbs. I am amazed how she uses the waste materials innovatively," said Kynjing.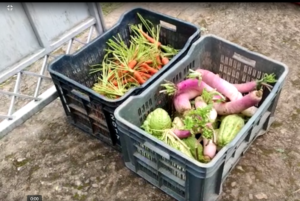 Project Clean Surrounding has been registered with the Shillong Municipal Board. Kynjing's team has also received a vehicle to collect garbage. "I am really thankful to the officials of the municipal board who saw merit in our project and decided to help. Their support has not only helped us leverage the work but also given us confidence," he said.
Many localities now invite the team to organise cleaning drives. Kynjing's two sons, who are students in St Edmund's School, also offer help in their own way. They too pick up plastic waste whenever they spot it on the road.

"Cleanliness is a way of life. So, one cannot do it whimsically. I see so many citizens getting into clean-up drives one day and forgetting about it the next day. We do not work like that. Ours is a daily affair and the project helps many to earn a living. This is God's project, I believe. We have a holistic approach. What is the point of having a clean environment without a clean society? That is why I try to help alcoholics by engaging them in the project," Kynjing explained.
A red Gypsy, a blue Maruti van and a municipal van were parked on the frontyard. The Gypsy was the first vehicle that was used for carrying the garbage. Kynjing was excited to show how every bit of waste is utilised productively. Pointing at a dump of broken bricks behind the house, the green crusader said his team collects anything that is rejected as waste and "that includes broken bricks and tiles which can be used for various purposes".
Jamir, who is an award-winning entrepreneur, does not talk much about her work and prefers to be a silent worker. But her contribution to taking the project forward is immense. While Kynjing does locality cleaning drive, Jamir takes care of the garden. She picks and chooses articles from amid the garbage that Kynjing collects and utilises those in her garden. "Nothing's a waste. You just need to find a way to utilise it," she said as she watered the herbs.
But how does it feel to be called a "garbage picker"?
Kynjing laughed and looked at Jamir. The couple have got used to taunts and acerbic comments.
"In the beginning, I would feel shy picking up bottles and other dry waste. But with time, I realised that I have to reach my goal, which is to make the city clean. People talk and I cannot stop them. Are they making any effort to keep the city clean? Nowadays, we pay little heed to what people say," he said after a pause.
Project Clean Surrounding is currently focused on dry waste but is planning to start collecting wet waste too once there is proper infrastructure. Any citizen who wants to help Kynjing in his endeavour can get in touch with the team on Facebook (Project Clean Surrounding page) or call on 6033040934.
~ Team Sunday Monitor