Feature
What's cooking in Swagat Mehta's kitchen?
Chef from Amritsar says hill city's beauty & people's hospitality won his heart
International Chefs Day
Shillong, Oct 20: Swagat Mehta visited his sister in Shillong last year and decided to continue his stay here. The scenic beauty of the hill city, the delightful weather, the tranquility and the hospitality of the people made him feel at home.
The 30-year-old chef decided to "serve people here with my sumptuous dishes".
An accomplished and dynamic chef with a repertoire of innovative and amazing dishes under his belt, Mehta has over eight years of experience in the Food & Beverage Service Industry. He specialises in both continental and Indian cuisines and his signature dish, Herb Couscous and Cottage Cheese Steak with tomato vodka sauce, is a heart-winner.
Mehta, who is originally from Amritsar, is currently working with Polo Orchid Towers Sohra after his stint at Tripura Castle in the city.
"Becoming a chef was a dream for me from an early age and I trained hard to become one. My favourite chef needs no introduction, for he is Mr Gordon Ramsey," said the young and talented chef, who has worked with brands like The Grand and The Park.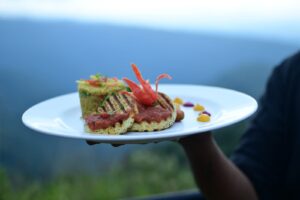 Though Mehta's love for Meghalaya forbade him to go back home, he is rooted to his home state when it comes to food. "I love Punjabi food the most," the chef said.
"Food to me is life, it gives nourishment to both the body and the soul. Being a chef, I can understand the hard work that goes behind the curtains to come up with a decent bowl of food, be it as simple as a cup of soup," he added.
Last year, when the Covid-19 pandemic crippled the hospitality sector, Mehta did not lose heart. In fact, he took up the challenge and continued to hone his skills.
"During the pandemic, I was home as hospitality business came to a halt. But being a chef, I could not sit idle and so I planned to start my authentic thin crust gourmet pizzas from home and start serving my neighbours and friends," Mehta said.
To a query, Mehta replied, "Life in Sohra is great at the moment. I am doing well professionally and on the personal front, looking forward to happier times in the near future."
On International Chefs Day on October 20, Mehta wanted the efforts of every chef to be lauded.
"They are the ones behind the curtain, slogging to bring you a tasty platter. They are the ones making this a memorable occasion for you. Keep on frequenting your favourite joints and make a habit of appreciating the chefs too," he said.
~Team Meghalaya Monitor