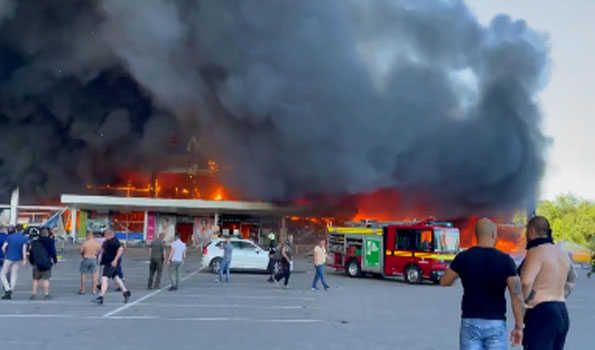 Kyiv, June 28 (UNI): At least 18 people have died in a missile strike on a shopping center in the Ukrainian city of Kremenchuk.
On Monday, some 1,000 civilians were estimated to be inside the busy mall at the time of the attack around 15:50 (12:50 GMT), BBC report quoted Ukrainian President Volodymyr Zelensky as saying.
Zelensky described the attack as one of the "most brazen terrorist acts in European history". He said the mall had no strategic value to Russia and posed no danger to its forces — "only the attempt of people to live a normal life, which so angers the occupiers".
"Only totally insane terrorists, who should have no place on earth, can strike missiles at such an object," he added.
The leaders of the G7 group – who are meeting in Germany – condemned the attack as "abominable".
"Indiscriminate attacks on innocent civilians constitute a war crime," they said in a joint statement. In addition to strongly condemning the attack, the joint statement vowed to "continue to provide financial, humanitarian as well as military support for Ukraine, for as long as it takes".
The local governor, Dmytro Lunin, described the attack as a crime against humanity, writing on Telegram that is was "an obvious and cynical act of terror against the civilian population". Authorities say 440 people from emergency services are working on location, including 14 psychologists brought in to support those affected, reports BBC.
France's president Emmanuel Macron condemned the Russian missile attack as "an abomination." The United Kingdom's ambassador to Ukraine called it a "murderous Russian act."
US president Joe Biden said the attack was "cruel", after coming out of a G7 meeting in Germany where the US and other countries mulled a price cap on Russian oil and gas. The central-eastern city of Kremenchuk is located about 130 km (81 miles) from Russian areas of control.