National
2 killed as farmers resort to violence in UP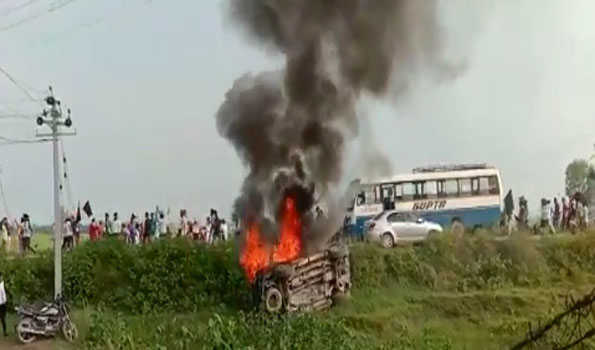 Lakhimpur Kheri, Oct 3 (UNI): Violence broke out during a protest by farmers after two of their colleagues were killed here near the function of Uttar Pradesh Deputy Chief Minister Keshav Prasad Maurya on Sunday.
Two farmers reported to have been killed and one was injured when a SUV of a BJP leader ran over them in Tikuniya area.
After the death, farmers resorted to violence in which several vehicles of the BJP leaders were ransacked.
According to reports, thousands of farmers marched on Sunday on the news of Prasad reaching village Banvir of Union Minister of State for Home Ajay Mishra Teni in Tikuniya of Lakhimpur Kheri and occupied the helipad site at Maharaja Agrasen Sports Ground, where Deputy CM's helicopter was to land.
After farmers occupied the helipad in the morning, the Deputy CM changed his programme and he reached Lakhimpur at 12 noon by road from Lucknow.
On the other hand, angry farmers in Tikunia protested by uprooting the hoardings welcoming the Deputy CM. Angry farmers set on fire several vehicles. UP DGP Mukul Goyal confirmed the death of two farmers. He said that in view of the prevailing situation there, ADG Law and Order Prashant Kumar has been asked to reach the spot immediately.
BKU leader Rakesh Tikait, after getting the information about the injuries of farmers in Lakhimpur Kheri, said that hundreds of farmers were returning from Lakhimpur after attending a program, when they were attacked by a vehicle of a BJP leader, followed by firing. He left for Lakhimpur with the office bearers of the Bharatiya Kisan Union.
At the same time, the police have tightened security as a precaution. SP City Second Gyanendra Singh and station in-charge Sachin Malik along with the force were talking to the farmer leader.
Prasad was scheduled to land a helicopter in Tikunia at 2 pm on Sunday. But, on Sunday morning, thousands of farmers from places like Palia, Bhira, Bijua, Khajuria and Sampurnanagar reached Tikuniya with black flags in their hands and captured Maharaja Agrasen field where the helipad was made.
Security force tried to stop the farmers, but the farmers left the main roads and reached Tikuniya through the villages.
Maurya was slated to visit Banveerpur village of Union Minister Ajay Mishra to distribute prizes on wrestling competition in a school. The distance from the violence spot is just 3 km.