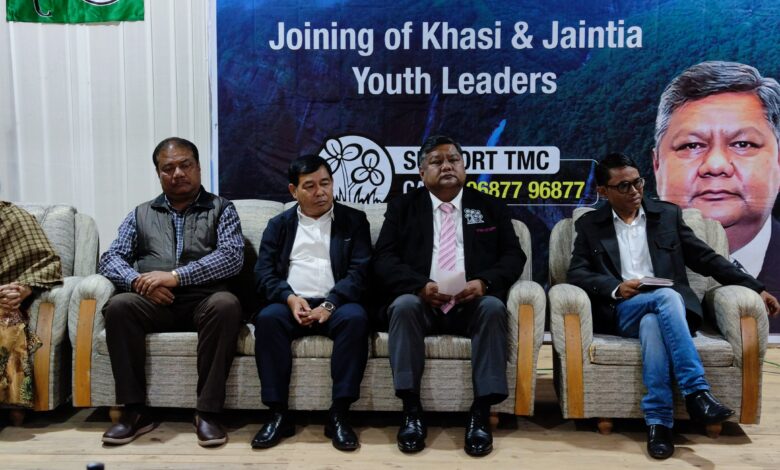 Shillong, Oct 13: Two NGO leaders and others joined the All India Trinamool Congress (AITC), on Thursday in Nongthymmai.
Former United Hynniewtrep Movement (UHM) vice president Daniel Kharshandi and former UHM education secretary Vicky Mawrie and 30 members were welcomed by the AITC state president Charles Pyngrope in presence of vice president James Lyngdoh and other party functionaries.
Kharshandi reiterated the need for a change and said, "While the current government is busy laying foundation stones, Meghalaya TMC has raised various concerns of Meghalaya in the national arena. Meghalaya TMC is a party with good intentions and they will bring change".
According to Mawrie, the youths of Meghalaya are very creative. But due to the lack of initiatives by the current government they cannot grow. Through Meghalaya TMC and under the leadership of an able leader like Charles Pyngrope, the change will come for the youth".
Commenting on the inspiration by the National Chairperson of All India Trinamool Congress, Mamata Banerjee, Meghalaya TMC State President Charles Pyngrope said, "In this journey as a president of the Meghalaya TMC and my 10 years of journey in politics, I have not witnessed any leader like Mamata Banerjee. In her heart, she only possesses the urge to alleviate poverty and help people in need.
"The increasing presence of youth in our party will further strengthen our wings to be the harbinger of change. The longing of the people to bring change will be a reality now through Meghalaya Trinamool Congress", added Pyngrope.
If given a chance to form the government, Meghalaya TMC aims to concentrate on improving the health and the education index in Meghalaya, he added.