Headlines
Ad hoc teachers protest, demand deficit system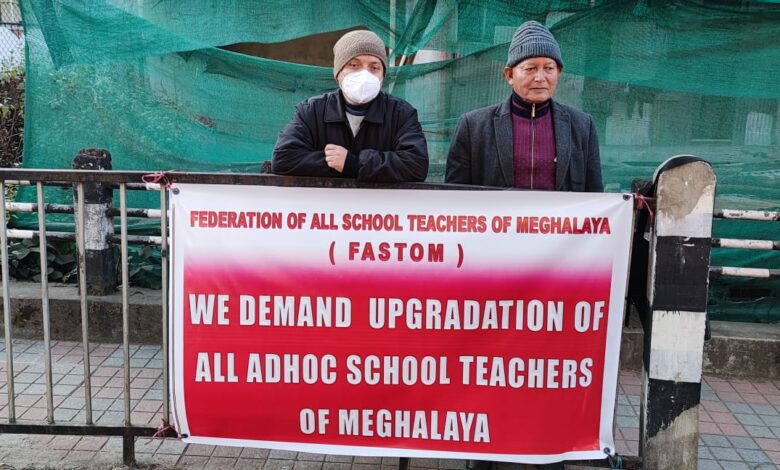 Shillong, Jan 17: The Federation of All School Teachers Association (FASTOM) has protested in front of the secretariat for up-gradation of all ad hoc school teachers in the state.
FASTOM president Kenneth Shadap said the protest in front of the secretariat will continue till January 20 and it will be followed by a black flag day on January 21, which also coincides with the celebration of the 50th year of Meghalaya's statehood.
He said they were compelled to take such a decision after the Chief Minister Conrad Sangma failed to keep his promise to invite the association for discussion on the issue.  
"The chief minister had promised to invite us in November but November has gone, December has gone, now we are in January – that is why we came to protest here," Shadap said.
The association has been pursuing the demand for upgradation of all adhoc schools to the deficit system from 2019.
 "It was on September 27, last year that the chief minister had invited us for discussion. He told us that I cannot give you a deficit system so we requested him if you cannot give us a deficit system at least give a deficit pattern so he has instructed the officers concerned," Shadap said.
He added, "After one week we met the director and asked whether he has prepared all paper works in connection with regards to the up-gradation to deficit pattern, he said yes and that within two weeks he can complete his work. We were quite happy. But It seems that the director has finished his work but the government is remaining silent. Actually if the government is ready, they can just bring and approve in the cabinet."
There are over 7,090 teachers in 860 ad hoc schools including lower primary, upper primary, secondary and higher secondary level.
The FASTOM president said the government would require additional funds of Rs 250 crore for upgradation of all adhoc schools adding that the government even has the capacity to do so as plentiful revenue is being collected in the name of education cess.
The ad hoc lower primary school teacher is getting only Rs 12,000 per month while those teaching in upper primary level are getting only Rs 16,000, secondary level Rs 20,000 and higher secondary Rs 24,000 without any additional allowances.
"We want the government to invite us for talks so that we can have a negotiation and dialogue which will satisfy both the government and us also," he said.