North East
Assam forum demands transparency in rhino horn disposal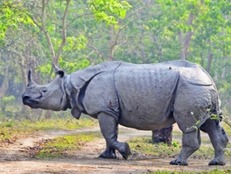 Shillong, Sept 19: The Patriotic People's Front Assam (PPFA) has demanded full transparency in the process to dispose of wildlife parts, including the rhinoceros-horns, kept in state treasuries for decades.
The forum has urged Chief Minister Himanta Biswa Sarma to ensure that only the certified genuine horns are burnt "in presence of distinguished personalities in public view".
The Assam Cabinet recently resolved to destroy 2,479 rhino horns, out of 2,623 horns stored in various treasuries. The forest and environment department has already conducted the verification process to identify probable fake horns among the real ones in 12 treasuries across Assam as allegations flouted that a section of corrupt forest officials would destroy those fake horns and later smuggle those into international markets.
Earlier, the Dhaka-based Asia-Pacific Forum of Environmental Journalists welcomed the initiative to speared the message that rhino horns do not carry any aphrodisiac quality, for which the gigantic animals are poached across the world, but it also put forward a condition that those must be scientifically confirmed as real ones. It highlighted that the horns could fetch a million dollar in illegal markets spread across east Asia and hence the issue should be resolved amicably.
"We expect only the scientifically proved rhino horns are disposed in presence of wildlife experts, environment enthusiasts, eminent personalities from various other field of activities," said a PPFA statement adding that the process must not give an ample scope for corrupt officials to illegally sell the syphoned away horns from the consignment for their personal gains. Moreover, it added, the government should not hurry for the process certainly to avoid any post-event controversy.