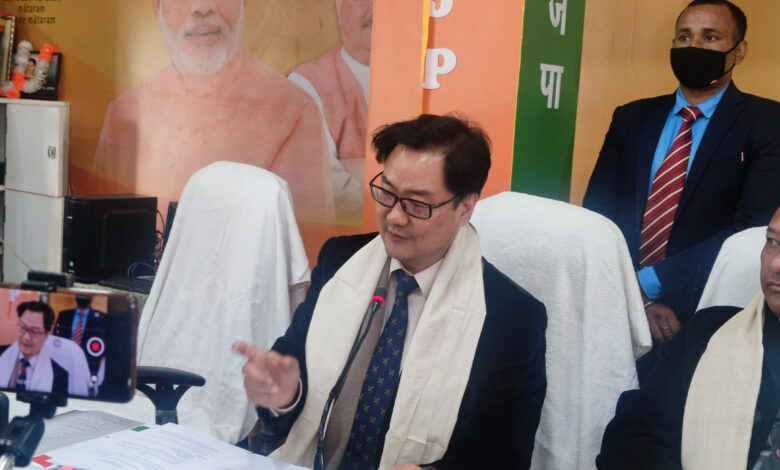 Shillong, Feb 5: The BJP-led NDA government has earmarked Rs 76,000 crore for the North East in the union budget compared to the past year's allocation of Rs 68,000 crore.
Speaking to reporters on Saturday at BJP office in the city, the union minister of law and justice, Kiren Rijiju said the Northeastern states will get Rs 8,000 more this time.
The priority is to develop infrastructure, he said, adding that the Northeastern states will have to utilise the money properly.
Besides this, under the Prime Minister's Development Initiative for North East(PM-DevINE), Rs 1500  crore has also been allotted.
Centre wants amicable border settlement
Rijiju said the Centre had already asked all the states to amicably resolve the border dispute  without any violence .
"Whenever there are some instances of problem and dispute , peaceful negotiation is a must. We must tread carefully and we cannot create enemies as we must ensure that we co-exist peacefully", he said.
The minister pointed out that Amit Shah's guidance and support has given a platform and opportunity which will lead to amicable solution. "We are very hopeful as there are visible signs coming up , this was never seen during the Congress regime", he said
Insurgency
The union minister said insurgency has been a long issue for the North East but after the Prime Minister Narendra Modi assumed office, the disgruntled youths have comeback to the mainstream as without peace development is not possible.
To a question on peace talks with HNLC, he said the  Centre is always there to assist the state government to ensure law and order is maintained.
The Centre and the state have close coordination on sharing of information including political understanding, he said.
ILP issue 
When asked about the status of ILP demand, the union minister said the chief minister is very much aware of this. "Home ministry is dealing with the matter and if I make any announcement, it is not wise.The matter is under discussion and it should be dealt carefully", he said. 
Concern over PLA abduction 
To a question on the alleged abduction of Tapar Pullom by China's PLA several years ago and the long wait for him by the family, the minister said that the matter will be followed up.
"Arunachal is a huge territory and in many areas , border with the Chinese side is not defined sometimes our people cross over to their area, while those from China venture into our side and whenever there are reports of our people , many times ,we get them back , we are trying to enquire about the person but we have not got anything specific", he said.