Headlines
Sunday Monitor
'Challenges are part of life'
Chum Darang speaks to Sunday Monitor about her journey from being a model to the razzmatazz of Bollywood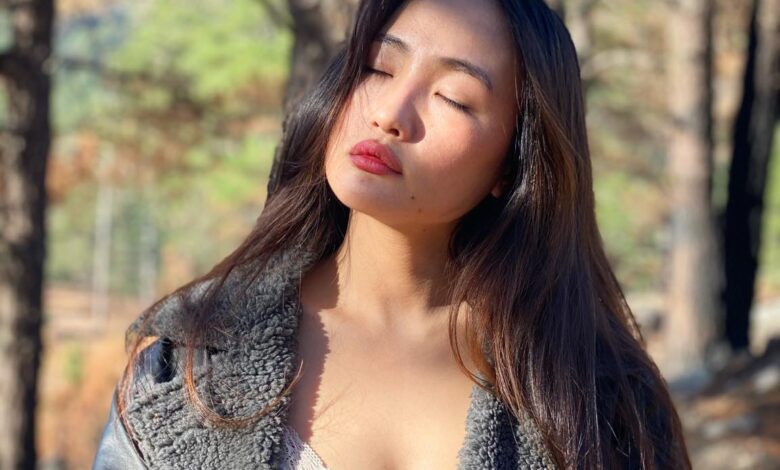 A successful model, local entrepreneur and an actor, Chum Darang has traversed a long way within a short span of time. The 30-year-old model from Arunachal Pradesh is making a splash with Badhai Do, the Bollywood sequel of Badhai Ho, that opened in theatres two weeks back.
Darang plays Rimjhim Jongkey, the lover of the lead female character Suman Singh in the film played by Bollywood actress Bhumi Pednekar, who is forced by social taboo against same-sex relationship to marry a man, Shardul Thakur, played by Rajkumar Rao.
Badhai Do is Darang's first Bollywood venture but her acting career started in 2020 with OTT series Pataal Lok where she had a small role.
Darang, who belongs to the Adi tribe in Arunachal Pradesh, was born and brought up in Mirzom village in Pasighat.
After completing her gradation in English and obtaining bachelor's degree in Education, she moved to New Delhi for pursuing post-graduation in tourism. By then, she was already participating in beauty pageants.
The model's first feat was in 2010 when she was crowned Miss AAPSU. Success followed thereafter as she won the North East Diva pageant and named the second runner-up in Miss Himalaya beauty pageant the next year.
"In 2010, the AAPSU title was my first big win. I won a Chevrolet car as I was crowned the beauty queen. My father still uses the car," Darang said in an audio interview from Mumbai.
Besides, Darang had won several pageants like Miss Earth India, Miss Asia World and Miss Tiara India International.
Darang has always loved her freedom and strived to be an independent woman. Even as she was winning pageants, she decided to start a business of her own. In 2018, she opened Café Chu in Pasighat. She is also an avid adventure sportsperson and loves to play the perfect host with good food and great hospitality.
With Badhai Do, Darang has embarked on a new journey in the Hindi film industry. Though she never had any formal training in acting, the model-turned-actor said she attended "a couple of acting workshops, including one for the latest film". She remained vague on her plans to make a full-fledged career in Bollywood.
When asked about the challenges of being a part of one of the biggest film industries in the world, Darang downplayed it saying challenges are a part of life and "I am not someone to get obsess ed with it".
For many actors from the North East, language has always been a problem but not with Darang. "Thankfully, Hindi is widely spoken in Arunachal Pradesh and the schools I went to allowed me to study the language," she told Sunday Monitor.
A humble but confident young actor, Darang said she has a lot to achieve in this arena.
She is also aware of her responsibilities towards the local film industry in her home state. "However, I am currently not in a position to plan anything in this aspect as I have a long way to travel. If I am blessed to achieve great feat, I will definitely contribute to the Arunachal film industry, which is not as flourishing as other local industries," she observed.
For now, Darang wants to focus on her new journey. She also wants to encourage struggling artistes from the North East to walk an extra mile to achieve their dreams. "Work hard if not harder. Give your best and believe in yourself," was her message to the youth.
~ Team Sunday Monitor
Photos from the actor's Facebook page