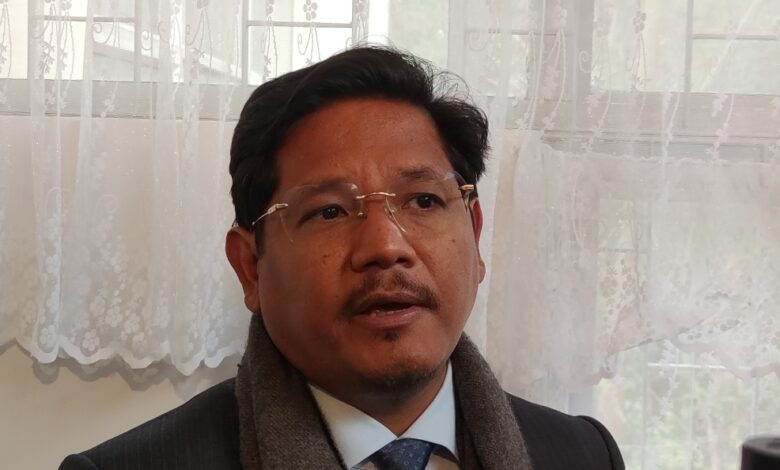 Shillong, March 20: Chief Minister Conrad  Sangma on Monday said patriotism does not get stronger by hating others.
Referring to the pandemonium in the Assembly on Monday when VPP MLAs walked out of the House while the governor was addressing the House in Hindi, the chief minister said, "I want to make it clear that we have to remember that each and every one of us here be it any tribe or community, any language speaking community obviously we love our own people, we have a set of patriotism in us but having that sense of patriotism and love for our people doesn't get stronger just by hating others or by bringing others down or by bringing comments like these that you cannot speak in this language, it does not strengthen your patriotism, it just creates the negativity which is not healthy at all in our society," Conrad said.
Speaking to reporters after the session, the chief minister said, "Hence, loving your own people is one thing but loving your own people and hating others is again another different thing altogether. That is not the kind of culture that we would like to see especially in the Assembly".
He said the government is following up the issue of recognition to Khasi and Garo languages.
"There are many ways to promote your own language but being negative towards someone else is not the way to promote yourself. Therefore, we need to ensure our languages are promoted, yes it is important to ensure we push our languages but as I said not with the mind-set of hating somebody else or hating some of the other languages that does not strengthen our desire to strengthen our own languages," Conrad added.
Terming the behaviour of the VPP legislators as embarrassing, he said, "it is not healthy at all and doesn't send a good reflection of our members and the way our house is being run. I would urge the members to not engage in such kinds of scenes and create this kind of situation. There are many other ways in which we raise the concern."