National
Cong white paper on Centre's Covid mismanagement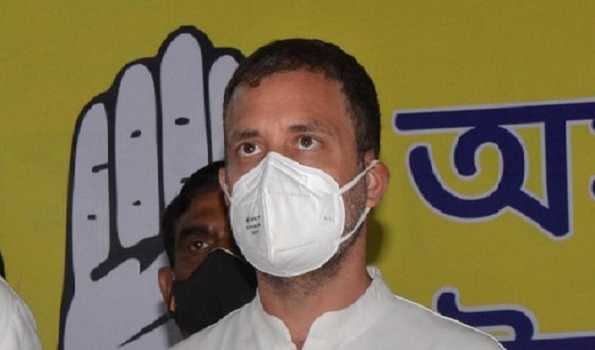 New Delhi, June 22 (UNI): Congress leader Rahul Gandhi on Tuesday released a 'white paper' on the handling of the Covid-19 situation by the government that, according to him, failed to control the disastrous second wave and asked it to speed up vaccination, build infrastructure and provide financial relief to poor and kin of Covid-19 deceased to prevent another wave.
Addressing a virtual press conference, the former Congress president said the "white paper is based on four pillars — mismanagement, preparation for the next wave, financial relief to the poor and compensation to kin of Covid-19 deceased".
"The purpose of the white paper is not to attack the Government, but to help the nation prepare for the third wave," Gandhi said.
The Congress MP held the central government and Prime Minister Narendra Modi categorically responsible for the second wave that hit the country hard. "The Prime Minister did not take the second wave seriously and was focused on electioneering in Bengal," he alleged.
Taking a jibe at Modi for getting emotional while addressing his constituency Varanasi, Gandhi said, "The Prime Minister's tears cannot wipe the tears of those who lost the lives of their kin. The PM's tears did not save the lives of those who died, but oxygen could have saved them."
He warned that the third wave is inevitable and only proper infrastructure and 100% vaccination can prevent the menace.
Gandhi asked the Centre to treat all States equally in providing funds, vaccines and other requirements. He also batted for giving compensation to the families of Covid-19 victims. The Supreme Court is also hearing a similar plea of giving Rs 4 lakh as compensation to the kin of those who died of Covid-19.
As per the official data, till Tuesday, 3,89,302 people have lost their lives during the second wave.
Later, Gandhi tweeted, "The idea behind our white paper report on COVID-19 is to provide insights and information so that avoidable deaths can be prevented in the coming waves. GOI must work on our constructive inputs in the interest of the country."