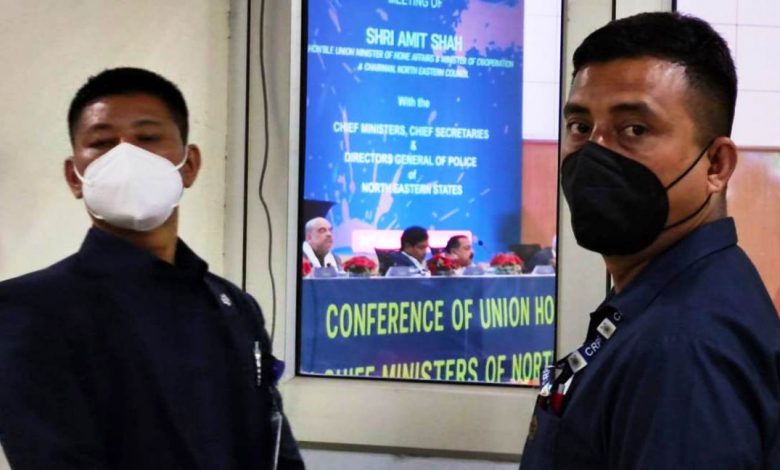 Shillong, July 24: Neither the state cabinet nor the pressure groups secured any commitment from the union home minister Amit Shah regarding ILP and recognition to Khasi and Garo languages after their meeting held at the state convention centre on Saturday.
Chief Minister Conrad Sangma avoided the media while his cabinet colleagues spoke about lack of commitment by Shah regarding ILP and the language issue.
Earlier, the pressure groups including, KSU, CoMSO, FKJGP, HNYF, GSU and others were agitated as Shah did not want to speak about ILP and asked them to highlight other issues during their short interaction with Shah.
The disappointed pressure groups said they will chalk out their future course of action shortly after holding a meeting.
Earlier, the state cabinet ministers also spoke about the outcome of their short meeting with the union home minister, who did not give any assurance to the issues like ILP and Khasi language. Conrad, who did not want to meet the press, was also present along with his cabinet colleagues.
Other CMs speak             
Some chief ministers of the North East spoke to journalists about the points discussed in the meeting chaired by Shah.
Though Conrad did not speak despite requests, the chief ministers of Sikkim, Manipur and Tripura spoke about the issues discussed in the meeting.
The issues discussed were drugs trafficking, border dispute, internal security, tourism and others.
Curiously, on Friday, Assam Chief Minister Himanta  Biswa Sarma and his Meghalaya counterpart spoke about the border dispute but not after the meeting with Shah on Saturday.
Agony for journalists  
The media persons, who were not provided with any facilities, waited in vain at the venue for five hours from 5.30 pm. Several media persons from Assam have also expressed displeasure as proper arrangement was not made.
The journalists were given opportunity only to take photos and visuals of the inauguration of the meeting of chief ministers just for a few minutes. Some state government functionaries have even asked the media persons to go out despite the fact that the MIPR issued passes to cover the visit of union home minister on July 24 and 25.
Hectic days
From rehearsals for two days in the run upto Shah's visit   to the actual meetings on June 24 and 25, many police personnel did not have time to rest.
The officers connected with the visit of Shah and others also lost their weekend.