State
East-zone regional conference held on enhancing access to justice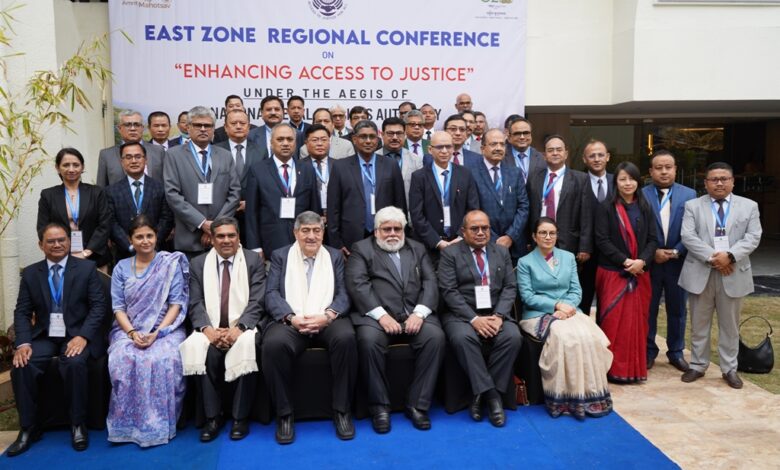 Shillong, March 18: The National Legal Services Authority (NALSA) on Saturday organised the East-Zone Regional Conference on the theme "Enhancing Access to Justice". The inaugural session was graced by Justice Sanjay Kishan Kaul, Judge, Supreme Court of India & Executive Chairman, NALSA in the presence of Justice Sanjiv Khanna, Judge, Supreme Court of India as the Special Guest, Justice Sanjib Banerjee, Chief Justice, High Court of Meghalaya & Patron-In-Chief, MSLSA, Justice H.S. Thangkhiew, Judge, High Court of Meghalaya & Executive Chairman, MSLSA and Justice W. Diengdoh, Judge, High Court of Meghalaya & Chairman, HCLSC.
Chief Guest Justice Sanjay Kishan Kaul said the approach to legal services authority should have a long term perspective since it is not a task which can be achieved in a day or a year, hence continuity is necessary.
The main objective that led to the creation of the Legal Services Authority Act was to provide a sense of relief and equality in terms of legal assistance to the large underprivileged sections of the society, he said.
He highlighted some of the data and figures relating to cases faced by the underprivileged sections, 70% of the under trials are from the socially vulnerable section, 89% were found to be illiterate, 41% had not completed their secondary education and 72% of the under trials belong to socially vulnerable categories and other backward classes.
"This shows that the impoverished and marginalised groups often faced the brunt of the arbitrary arrest, detention and custodial violence and procedural protections built into the law are often violated, he said.
He said such conferences should not only be confined to a particular state rather it should be held in other places as well in order to gain different views and ideas and knowledge sharing which can be beneficial in addressing the various concerns and issues that plague the society.
Earlier, the special guest Justice Sanjiv Khanna highlighted various constitutional provisions related to legal aid.
The chief guest along with other dignitaries released the newsletter of the Meghalaya State Legal Services Authority titled "New Light" issue VII.
The inaugural session was followed by a technical session wherein the State Legal Services Authorities of Arunachal Pradesh, Assam, Manipur, Meghalaya, Mizoram, Nagaland, Sikkim, Tripura, West Bengal and UT Andaman & Nicobar gave a presentation on "Identification of issues / challenges and sharing best practices".