Sunday Monitor
English Bhaona: A socio-cultural challenge
Bhaona converted its ideals or look to be more artistic than the previously prevalent religions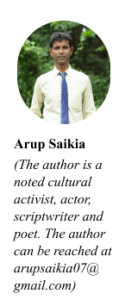 Bhaona is the cultural backbone of Assam. The motion of the Assamese ethnic community was about to stop in medieval Assam. Political unrest and religious malpractices gripped the society resulting in internecine discordance among own people. Meanwhile, Assamese polymath Sankardev, born in the 15th century, initiated the Bhakti Movement that propagated equality and fraternity. This awakened Assamese people to embrace Renaissance.
Bhaona is a socio-religious-cultural product of the Bhakti movement or the Vaishnavite revolution. After the demise of Sankardev, the various monasteries (Satra), Namghars (Assamese prayer house) and individuals played pioneering roles in giving different forms of original Ankiya Bhaona. Through many upheavals and transitions, Dhura, Fouzi, Matribhasha (mother tongue), Buka, Hazari, Baresohoria and many more Bhaonas are appearing. The Bhaona in English, popularly known as English Bhaona, is the latest addition to the list.
Concept
English Bhaona is the product of the culturally rich Jamugurihat of Sonitpur district. It is the brainchild of the famous Baresohoria Bhaona. A progeny of Sankardev, Hukai Dekagiri started the first Baresohoria Bhaona (people's Bhaona) at Jamugurihat in 1797. The enthusiasm of people and high-quality performance prompted the chief executive of Prajanmya Unmesh, Arup Saikia, to perform globally. It is noteworthy to say that Prajanmya Unmesh is a reputed socio-cultural organisation performing English Bhaona in India and abroad.
Singapore connection
Way back in early 2017, we visited Singapore to attend a cultural seminar. Apart from the seminar, roaming around the famous landmark, Merlion Park, was an experience. A Chinese troupe was performing a traditional drama in Assamese Bhaona-like attire. Their crowns and outer loose garments had similarities with the Ankiya Bhaona of Assam. Female actors were wearing Bodo-Kachari-type dresses with deep Mongolian look. Unlike Bhaona, their drama theme was not religious but purely social. Story was going ahead while one co-actor hid belongings of a female counterpart. Little bit funny and smooth. Evil characters were less demonic than that of our Bhaona.
The cultural and biological uniformity between the North East of India and the south east Asian countries are visible in all aspects. Saint Sankardev took many locally available ingredients while creating Bhaona.
Language factor
The actors were throwing dialogue in their vernacular Chinese language. Simultaneously, interpretation of the substance was also going on. As we keenly observed, the non-Chinese spectators were equally not enthusiastic while enjoying the drama. Interpretation can't equally sustain the original tempo of a drama. Curiously, we were compelled to ask fellow Chinese spectators about the theme and suspense of the drama.
English language
The original striking feature of Bhaona is the Brajawali language. Brajawali is a mixture of many eastern Indian languages, such as Maithali, Oriya, Prakrit, Bengali. It was Sankardev's effort to synthesise a common language that would be easily understood by all linguistic groups of eastern India and to reach out intensively beyond the borders of Assam. Imitating the footsteps of Sankardev, we have selected the English language, which can greatly enhance the extent of its reach across the globe. Not only English but also other languages, including Russian, were taken later in very less show. This way, after Brajawali and Matribhashar Bhaona, English Bhaona was born out.
Script & preparation
'Udyog Parva', the fifth epic of the Mahabharata, was selected for the first performance. As the capital of our country, New Delhi was chosen for wider publicity. Saikia himself translated the script. Girimallika Saikia and Gitimallika Baidya discharged their responsibility as joint coordinators. Artistes were obtained from senior schools and colleges having brilliant academic careers. Selecting artistes from the new generation having a cultural background is really a tough job.
Rehearsal had been done almost for two and a half months. Being the first Bhaona in English by local artistes, people were excited. Almost all the regional and national media extensively covered the Bhaona news.
Performance
On September 15, 2018, Srimanta Sankardev Bhawan, New Delhi, was selected as a venue for our show. Dr Kapila Vatshayan, a renowned scholar of international fame inaugurated the event. The environment of the venue was bustling in the evening. Back home, people were watching live telecast. Vatshayan in her brief speech said, "It's the English adaptation of the Mahabharata. Not only the dialogue but the songs and the laments (bilap) were all in English. The extraordinary features of Bhaona, entry and exit of the actors' footsteps synchronising to the tune of English-rendered songs. This is really amazing and it's emphasised to preserve the roles of Bhaona with sequence. I have seen, only language is different. But other ingredients of Bhaona such as Aria, Agnigarh, Purbaranga (orchestra), Sutradhar, and at the end, mukti mangalam or Kalyan kharman all rituals are practised. It's really very hard to find proper synonyms in another language. The English synonyms match the unique dialogue-throwing styles of this Bhaona."
Dr Malaya Khound, then associate professor, JNU, termed the translation work of Bhaona as a milestone of Assamese literature. Initially, she had immense anxiety to listen to some age-old prevalent poetic narratives of Bhaona in English.
After Delhi, there was no looking back. Coordinator Gitimallika Baidya stressed the necessity of Bhaona penetrating the metros to reach the elite classes. Many top Indian metros, including Mumbai, tested the devotional stream of sublime Assamese events.
Foreign debut
Coordinator Girimallika pursuing the mission to establish the pristine beauty of Assamese Indian culture everywhere. Baidya initially consulted the Assamese diaspora around the globe. After much consultation with energetic efforts, we were capable of performing in many developed countries. The prominent countries or places were Moscow, St Petersburg, Finland, Singapore, Macau, Dubai and Abu Dhabi. The Assam government cooperated with us and partially sponsored almost all the programmes. Apart from the previous Udyog Parva, other plays from the Ramayan and the Ankiya Keligopal (playful Lord) were also performed. So far, we know we may be the first even from India to perform Keligopal, or Rasleela, in English. National and state government representatives attended many of the programmes.
Effect
Every country has its own traditional drama or culture. The speciality and uniqueness of Assamese Bhaona is not less than that of others. Bhaona is neither dance nor dialogue-based drama. It is really a melodrama interspersed with songs, dance, dialogue and music. World drama started in Greece nearly 2500 years ago by ancient dramatists Aeschylus, Sophocles and Euripides. All are born before 450 BC. Sankardev's plays have had influence of Sanskrit drama. But some features are neither taken from Europe nor from the earliest Sanskrit dramatists like Bhasa or Bhavbhuti. Bhaona is a confluence of Aryan, local Assamese and immigrant southeast Asians. Sankardev's exclusive contribution to integrating all makes Bhaona different.
Finally, the few non-Indian people present in our show at least partially understood the rich cultural treasure of Assam and Assamese.
Bhaona converted its ideals or look to be more artistic than the previously prevalent religions. Artistic acceptability always prevails over that of religions. This is another striking transformation or feature of English Bhaona.
Criticism & obstacles
The mindsets of people reflect the culture of the said location. Bhaona from the Chinha Jatra to the present day has seen a lot of changes. People are accepting Bhaona in various languages. But some sections of Assamese people are getting foreign language English bizarre. Critics perceived that the theme and presentation of Bhaona get distorted if presented in other languages except Brajawali. Location-wise, sporadic protest meetings are also held. The director defended multi-lingual Bhaona, saying, "Language can't be a barrier for culture. Even creator Sankardev had not presented Bhaona in the mother tongue Assamese. He used composite language Brajawali for wider publicity."
Financial scarcity, visa and immigration difficulty for minor students, venue and location arrangements abroad are the most common problematic issues.
To attain revolutionary success, one artiste has to be wealthy, courageous, intelligent and healthy. The first Assamese filmmaker, Rupkonwar Jyoti Prasad Aggarwal, is a good example of this genre.
Future path
We plan to continue the performance in more countries and more languages. Inter-country languages connect minds. But translation bears more relevance and closeness to the heart. To establish Sankardev as a cultural maestro on par with Leonardo Da Vinci and Michael Angelo, we need to diversify into multi-dimension as a mission of Assamese.