Headlines
Hawkers stage protest in city against lockdown    
Govt urged to provide essential items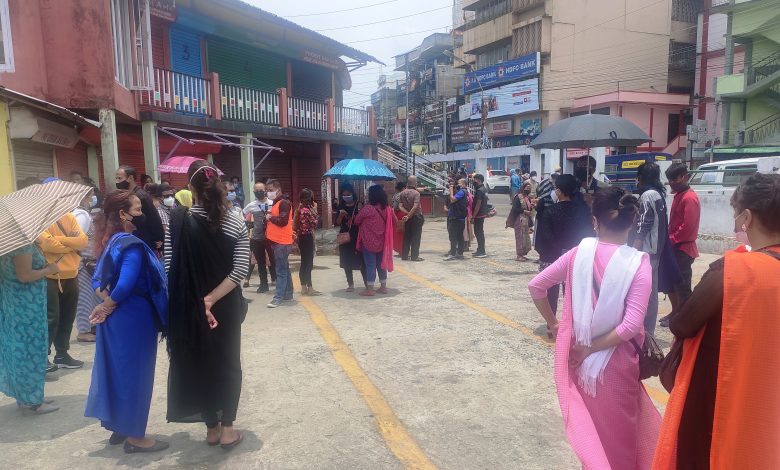 Shillong, June 7: The hawkers and street vendors affected by the Covid induced lockdown took to street on Monday asking  the state government to allow them to carry out their livelihood activities for the survival of their families.
Many  hawkers and street vendors came out and gathered at the two main commercial hubs – Khyndai Lad and Motphran – seeking permission from the district administration to resume their livelihood activities
Security personnel were guarding the areas.
Hawking activities in Shillong have been prohibited ever since the lockdown was imposed on May 5, due to the surge in the number of Covid-19 cases.
The hawkers and street vendors said the state government should take responsibility of providing relief in the form of essential commodities to all of them if they are not allowed to carry out their livelihood activities.
Following this, a meeting was convened by the district administration with them at Motphran.
The hawkers wanted the state government to implement the odd/even system so that they can restart their business.
"If the state government does not grant us the permission to resume our livelihood activities, then it should provide us with essential commodities as for the last one month, we have not been able to purchase essential commodities due to financial constraints," said A Kharmuti president of Meghalaya and Greater Shillong Progressive Hawkers and Street Vendors Association (MGSPHSVA).
Kharmuti alleged that some of the members of the association were also evicted by their house owners just because they were not able to pay their rent for the last two months due to the total lockdown.
She revealed that the majority of the hawkers and street vendors do not have ration cards to access the benefits of food grains provided under the NFSA.