North East
Hornbill Festival called off amid tension over killing of civilians
Konyak Union declares 7-day public mourning in Mon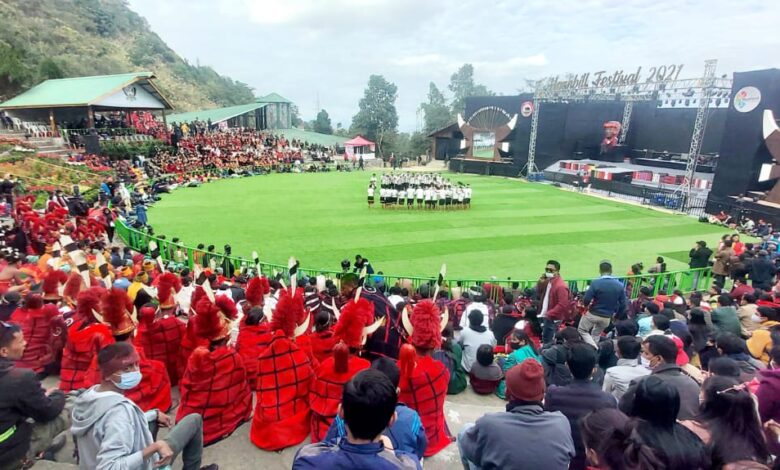 Kohima, Dec 7 (UNI): The Nagaland government on Tuesday officially called off the ongoing Hornbill Festival days after the state plunged into turmoil over the death of 15 people, 14 of whom were civilians, in firing incidents during a botched-up security operation.
The decision to cancel the marquee event that showcases the culture of the Northeastern state was taken in a meeting of the state Cabinet presided over by Chief Minister Neiphiu Rio.
The 10-day festival, being held at Naga Heritage Village in Kisama near the state capital, was slated to end on December 10.
According to official sources, the Cabinet meeting reviewed the situation after the firing incidents at Oting in Mon district on Saturday and Sunday's mob attack on the 27 Assam Rifles camp in Mon town, which left 14 civilians and a security force personnel dead.
The Eastern Nagaland Peoples' Organization (ENPO) — a representative body of six tribes of eastern Nagaland — had earlier directed people to stay away from the festival to express solidarity with the victims.
While 13 villagers including six daily wage labourers of a colliery died in two separate incidents of firing between Tiru and Oting village under Tizit sub-division on Saturday, another villager taking part in a violent protest on Sunday against the incidents was killed in a fresh round of firing by the forces.
Meanwhile, the Konyak Union, the apex tribal body of Konyak tribe in Mon, has declared a seven-day public mourning period in the entire district in memory and respect to the persons, who were killed by the security forces in a mistaken identity on December 4 and declared "Mon District Bandh" on Tuesday.
The KU further affirmed that there will be 'non-cooperation with the Indian Military Forces for violating the 'Eastern Nagaland Peoples' Organization (ENPO) Declaration' of December 18, 2007, that stated 'there will be no bloodshed in ENPO area.'
Sources said during the seven-day mourning KU warned and banned the movement of military forces or patrolling parties; failing to abide by this decision and untoward incidents that arise during this stipulated time, they shall be held responsible.
The KU condemned the incidents; the Union demanded remedial actions including repeal of the contentious Armed Forces Special Powers Act (AFSPA), 1958, from the entire North East Region and removal of the 27 Assam Rifles from Mon district on moral ground for failing to provide security to its citizens whereby the military forces from other state.
The KU also asked the Nagaland Directorate of School Education has informed that the examinations scheduled from December 6 onwards have been deferred till further orders.