Sunday Monitor
Let Valley of Flowers not become a paradise lost
Joshimath disaster once again reminds us to protect the Himalayas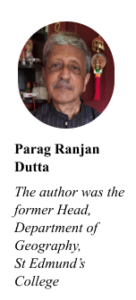 Joshimath, a small township nestled in the fragile Himalayan region, developed haphazardly without caring for its vulnerability on the barren slopes.
In the recent past, Joshimath has hit the news headlines, both in print and electronic media, for obvious reasons — subsidence of the roads, cracks developing in houses, partial resettlement of dwellers, etc.
The Himalaya, compared to the age of the earth is a young fold mountain formed some 40-60 million years ago during the Miocene period. I have seen Joshimath very closely twice in 1987 and 1992 on my way to the temple town of Badrinath, the seat of Lord Vishnu.
Auli, a skiing paradise is barely 10 km away from Badrinath. From Joshimath, the road descends down through winding curves to a valley and reaches a place called Govindghat. After three decades, when I look back, I think I was rather fortunate to travel through Joshimath because who knows there may not be any Joshimath, like Lost Atlantis after 2050.
Himalaya is not just a mountain. According to Hindu belief, it is the seat of Lord Shiva. The Himalayas have a captivating charm that allure people from all walks of life, be they mountaineer, trekker, nature lover, botanist and others. From Govindghat, one can trek to reach a heavenly place known as the Valley of Flowers.
The beauty of this place is mesmerizing with millions of followers of all hues. Known for lush green meadows and Alpine flowers, this place is a real heaven on earth. Many expeditions to Kamet failed. The Valley of Flowers was accidentally discovered by British mountaineer, photographer and botanist Eric Shipton and his fellow mountaineer RL Holdaworth after the first successful expedition to Mount Kamet way in 1931.
Mount Kamet, a huge 7,756m-high pyramidal peak of the Garhwal region in the Chamoli district of Uttarakhand is the second highest peak after Nanda Devi. At the time English mountaineer Francis Smythe and his associates conquered, Kamet it was the highest peak to have been scaled. The Valley of Flowers was discovered when they lost their way into an enchanting valley. Smythe was so much attracted by the beauty of the place that he called it "Valley of Flowers".
In 1938, Smythe went on to write a book called The Valley of Flowers. Smythe wrote that the "valley is a pleasurable escape to the nature lovers". He also wrote that "it is impossible to take a step without crushing a flower". After reading his book, an English lady, Lady Joan Margaret, was so inspired that she travelled to the Valley of Flowers. In one tragic incident while collecting Alpine samples for research, she died there.
From Govindghat, one can trek to one of the most revered Sikh shrines, Hemkund Sahib. It is devoted to Guru Govind Singh, the tenth Sikh Guru. It is believed that at this site, Guru Govind Singh meditated for 10 years in one of his earlier births.
Some six hundred exotic flowers were recorded at the Valley of Flowers. Of these, some common ones are orchids, poppies, marigolds, daisies and petunia. Blue poppy, a very rare flower, can be seen here. A revered flower, Brahma Kamal, is found in plenty in Hemkund, which is named after Lord Brahma, the Hindu God of creation.
This blooms in the upper reaches of the mountains. There are some myths about Brahmakamal. According to one Draupadi used to offer this flower to Lord Krishna. According to another belief these flowers were offered to Goddess Nanda Devi, who was reincarnated as Parvati, the spouse of Lord Shiva.
It becomes imperative to protect the valley and the rest of the Himalayan region because of the diversity in flora as well as fauna. The Valley of Flowers especially is botanically significant as it has some of the rarest species of flowers. The disaster in Joshimath has once again alerted us to be mindful of what we do and the consequences of human actions. It has reminded us about the immediate need for protecting the Himalayan region.
Read other articles by the author: