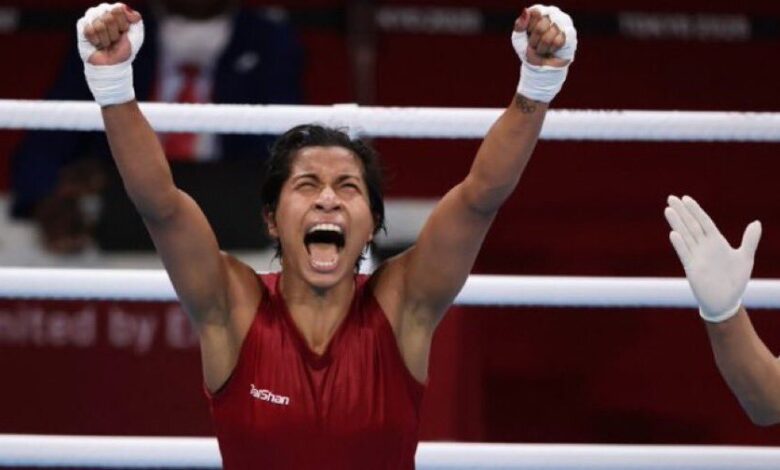 Shillong/New Delhi, Mar 26 (Agencies): Lovlina Borgohain on Sunday won her maiden World Boxing Championship gold medal defeating Australia's Caitlin Parker by 5-2.
Congratulating the pugilist from Assam, the state's chief minister, Himanta Biswa Sarma, tweeted, "Lovlina makes Assam proud again by striking Gold medal in #WorldBoxingChampionships Many Congratulations. @LovlinaBorgohai We're all so thrilled. My best wishes and blessings for your future endeavours."
Also, becoming only the second Indian female to have two World Championships gold medals to her name, India 's star pugilist Nikhat Zareen capped off an outstanding campaign at the Mahindra IBA Women's World Boxing Championship with a stunning victory in the finals at the Indira Gandhi Sports Complex here on Sunday.
Living up to her name, the tenacious Nikhat (50kg) oozed class in her rampant display against the two-time Asian champion Nguyen Thi Tam of Vietnam and secured a thumping 5-0 win. The reigning World Champion asserted her dominance in the bout from the word go by landing accurate punches and using her quick feet to dodge the Vietnamese's attacks.
The Indian's breath-taking performance saw her prevail in the first round with a 5-0 scoreline before Nguyen bounced back in the second round with a 3-2 scoreline to set up a grand slam finish. In the final round, Nikhat maintained her composure and proved why she's one of the best in the business with a sensational attacking display that helped her seal the win by unanimous decision.
With this victory, Nikhat became only the second Indian female pugilist to win two golds at the World Championships alongside the boxing legend Mary Kom who has claimed a record six gold medals in the competition.
"I am extremely delighted to become World Champion for the second time especially in a different category. Today's bout was my toughest in the entire tournament and since this was the last match of the tournament I wanted to utilize my energy completely and leave everything in the ring. It was a rollercoaster of a bout with both of us getting warnings as well as eight counts and it was very close. My strategy in the last round was to go all out and attack and I felt very happy when my hand was lifted as the winner. This medal is for India and for everyone who have supported us throughout the tournament," said Nikhat after her bout.