National
Madhav compares Mappila uprising with 'Taliban mindset'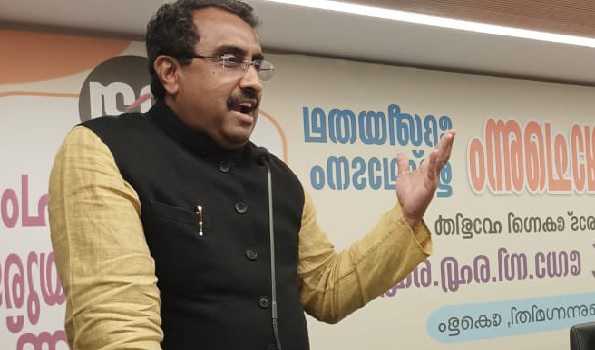 Kozhikode, August 19 (UNI): RSS National Executive member Ram Madhav on Thursday said the Moplah rebellion, also known as Mappila riots of 1921, was one of the first manifestations of the Taliban mindset in India.
He flayed the CPI(M)-led LDF government for celebrating the Mappila riots, popularly known as 1921 Moplah rebellion.
Madhav said this after inaugurating the national remembrance of the victims on the Mappila revolt martyrs' day at Kesari Bhavan here.
The LDF government was allegedly trying to whitewash the Mappila riots by celebrating it as communist revolution and even a film is being made, he said, adding that the Mappila revolt was considered as one of the first manifestations of Talibanism in the country.
The BJP leader said the beginning of the 1921 revolt in Kerala led to the partition of the country by dividing the people. The same mind set is now having by the Taliban in Afghanistan.
The BJP national executive member said the ruling BJP-led NDA government is all aware of the truth behind the Mappila revolt, so it will not allow to indulge in violence or to divide people through riots anywhere in India.
He said Baba Ambedkar and Mahatma Gandhi had disclosed the atrocities during the Mapilla riots. But the Congress-led UPA government failed to pass a resolution against it.
Madhav also opined that Kerala is not free from the separatist forces who were trying to divide the people by creating violence.
"However, this does not mean to accuse any religion but as an initiative to unite the people of Kerala," the BJP leader asserted.