Sports
Meghalaya Cricket Association holds awards night in presence of Mohammad Azharuddin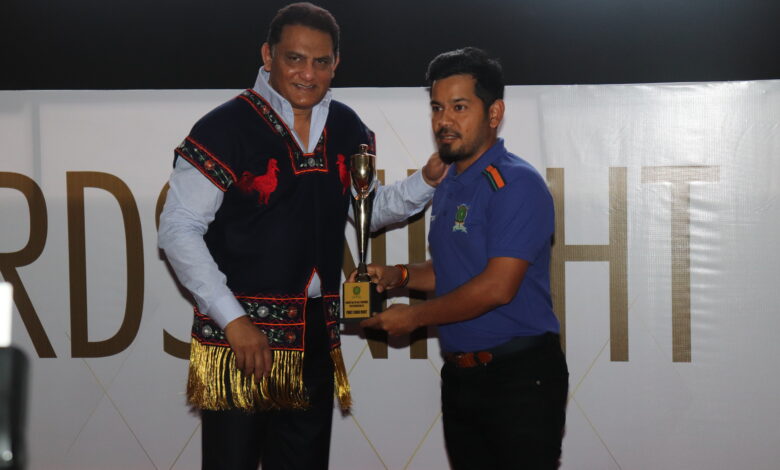 Shillong, April 10: The Meghalaya Cricket Association held its first awards night on Saturday in the city to recognise the contributions of the state's players for 2021-22 season in the presence of  former Indian national team captain and Hyderabad Cricket Association President Mohammad Azharuddin.
Senior MCA officials and other dignitaries were also present.
The event was after the final of the Senior Men Challengers Cup.
The seven individual award-winners were Manish Sharma, Abhishek Kumar, Chirag Khurana, Ajima Sangma, Punit Singh Bisht, Keven Christopher and Purav Agarwal. DB Ravi Teja was also applauded for his services to Meghalaya cricket as a guest professional; Teja retired from professional cricket last month following Meghalaya's last Ranji Trophy match of the season.
Meghalaya's senior men's team members were also recognised for qualifying for the 'elite' level of Ranji cricket and they were presented with a plaques.
Manish Sharma picked up three individual awards – for taking 37 wickets in the Cooch Behar and Vinoo Mankad Trophies, 10 wickets in a match and for taking four 5-wicket hauls.
Guest professional Chirag Khurana won two awards – one for scoring 685 runs, including five half-centuries and one century as well as taking 15 wickets in the Syed Mushtaq Ali, Vijay Hazare and Ranji Trophies while the other was for the highest number of half-centuries, which he and fellow guest professional Punit Singh Bisht both received.
Among the women, Ajima Sangma took 13 wickets during the Senior Women's One Day Tournament.
Other youngsters who won on the night were Kevin Christopher (for the most number of centuries at three), Purav Agarwal (four five-wicket hauls like Sharma) and Abhishek Kumar (taking 25 wickets in the U-25 Men's State A Tournament and ongoing Col CK Nayudu Trophy).
Azharuddin congratulated the players on their accomplishments and encouraged them to aim higher while always striving to honour their state and the sport.
Photo caption: Mohammad Azharuddin presents an award to guest professional Punit Singh Bisht, who has represented Meghalaya ever since the state's first Ranji Trophy season in 2018.