Headlines
Meghalaya's Covid vaccination less than national average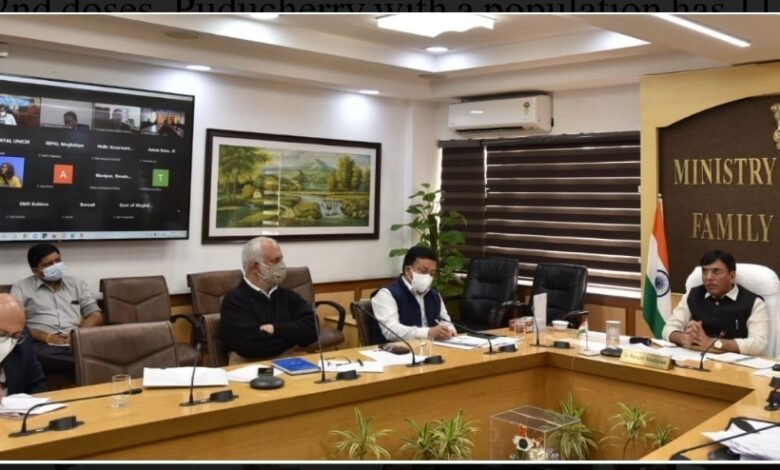 Shillong, Nov 22: While India's first dose coverage is at 82% and second dose coverage at 43%, Meghalaya lags behind from national average with only (57%, 38%) in first and second dose coverage.
Others below national average include Puducherry (66%, 39%), Nagaland (49%, 36%), and Manipur (54%, 36%).
Meghalaya with a target population of  over 20 lakh has 8 lakh people waiting to be given 1st dose and due beneficiaries for 2nd dose are over 2.5 lakh. Similarly, Manipur has over 10 lakh people yet to get their 1st dose and over 3.7 lakh due beneficiaries for their 2nd dose out of a target population of 23.4 lakh . Nagaland with a target population of 14.7 lakh has over 7.5 lakh 1st doses to be achieved and 1.2 lakh beneficiaries due for 2nd doses. Puducherry with a population of 11.3 lakh has 3.88 lakh people yet to get 1st dose and 1.91 lakh eligible but yet to receive 2nd dose.
To improve vaccination, Union Health Minister Mansukh Mandaviya virtually interacted with health secretaries and senior officials of the health department from Manipur, Meghalaya, Nagaland and Puducherry on Monday.
He urged the states to innovatively rope in all stakeholders including NGOs, faith-based organisations, religious leaders, community influencers and other partners to motivate and mobilise all eligible population towards full Covid vaccination.
He wanted the state to deploy all state government officials, one day each week, to visit each eligible household to motivate and mobilise them to towards full vaccination.