Sports
Messi, Salah & Lewandowski nominated for FIFA Best Player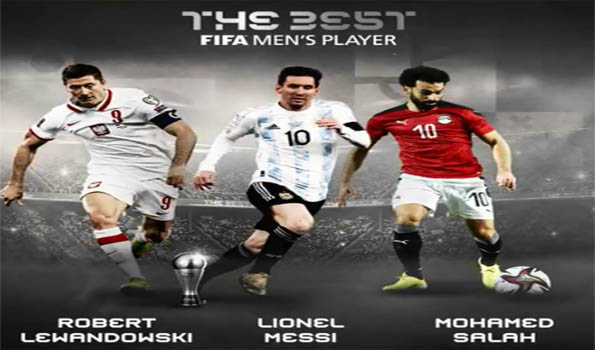 Zurich, Jan 7 (UNI): Lionel Messi, Mohamed Salah and Robert Lewandowski have been nominated for the 2021 Best FIFA Men's Player award, the international football governing body announced on Friday.
The accolade recognises the performances and achievements of players worldwide from October 2020 to August 2021, with a list of 11 nominees now reduced to the final three.
Messi, who moved from Barcelona to Paris Saint-Germain, helped Argentina win the Copa America. He also won his seventh career Ballon d'Or trophy last month.
Liverpool and Egypt forward Salah scored 26 goals for the Reds during the applicable period and has continued his scintillating form into 2021-22 with 23 strikes and nine assists in 26 games at club level.
Poland's Lewandowski, who won last year ahead of Cristiano Ronaldo and Messi, broke two Bundesliga records in the 2020-21 season, scoring 41 goals. The Bayern Munich striker also netted 43 goals in the year 2021.
FIFA also announced the nominees for the Best Women's Player award. Barcelona stars Alexia Putellas and Jennifer Hermoso, and Chelsea's Sam Kerr form the three shortlisted players for top honours.
The two awards are voted by an international jury comprising the current coaches of all women's and men's national teams (one per team), the current captains of all women's and men's national teams (one per team), one specialist journalist from each territory represented by a national team and fans registered on FIFA.com.
All the winners of the Best FIFA Football Awards 2021, including the recipients of the FIFA Fan Award and the FIFA Fair Play Award, will be crowned on January 17.