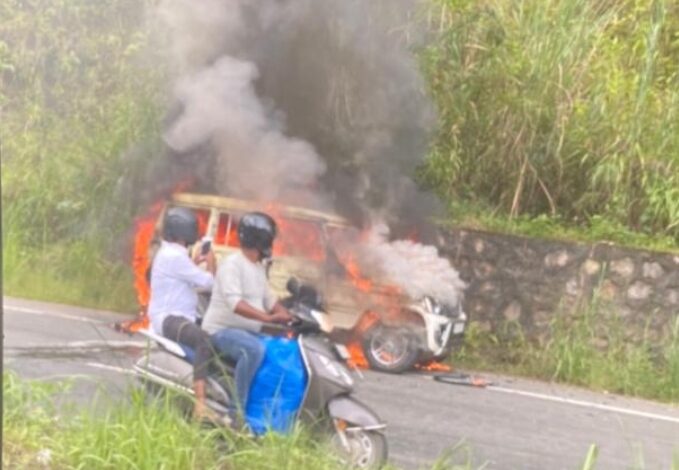 Shillong, Oct 2: The youngest brother of Umroi MLA, George Lyngdoh died after the car he was travelling in caught fire on Saturday afternoon.
According to police, on Saturday at around 12 noon, one vehicle ( ML05V 3108 -Bolero)while proceeding from Nongpoh and on reaching Umsalem -Umsning NH ,caught fire. The vehicle was burnt completely along with the driver whose charred body was found.
The driver has been identified as George's brother, Ferdinand Lyngdoh , who was the lone occupant of the vehicle.
Ferdinand was the Assistant Professor, Department of Basic Science and Humanities at College of Community Science, Tura, West Garo Hills.
Police found windshield glasses scattered as these were blown up due to pressure.
Police said the initial inquiry reveals that the fire may be accidental due to the fact that the occupant must have put on the AC and tried  to smoke.
According to the police, the person could not come out due to sudden explosion.
Police did not find any bottles of inflammable items near the area.
Condolences pour in 
The Shillong Press Club and the Meghalaya Pradesh Mahila Congress have condoled the death of Ferdinand.
In separate statements, both the SPC and the MPMC have conveyed condolences to the bereaved family.