National
Modi brings documents related to Biden's ancestral links to India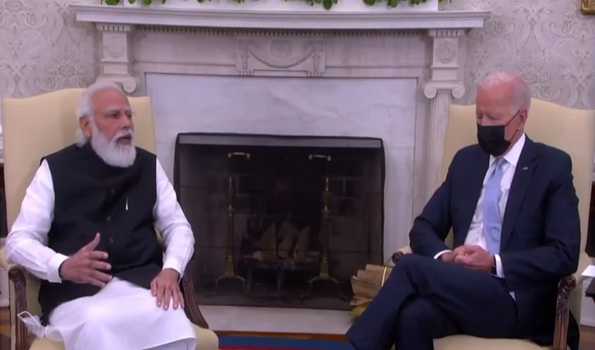 Washington, Sept 24 (UNI): Prime Minister Narendra Modi and US President Joe Biden's first in-person bilateral meeting on Friday saw some light moments as the US President referred to an ancestor who worked in an Indian tea company decades ago and had married an Indian lady.
Prime Minister Modi said he had done "some hunting around" and brought along some documents related to the Biden surname, evoking smiles and laughter.
In his opening remarks at the Oval Office in the White House, President Biden after welcoming Prime Minister Modi said that India-US relations are going to be stronger.
"I find out that there was a Captain George Biden, a captain in an Indian tea company. The end result was that he apparently stayed and married an Indian woman," said President Biden.
"The whole purpose of the (bilateral) meeting is to help track them down," he said, to laughter all around.
Modi, in his remarks after thanking President Biden for the welcome, referred to the Biden ancestor.
"You have spoken in detail about the Biden surname in India, and you have mentioned that to me earlier too.
"And I hunted around for documents, and today I have brought along some documents to take it forward. And maybe they will be useful to you," the Prime Minister said, evoking smiles and laughter among the crowd of media persons and officials gathered.