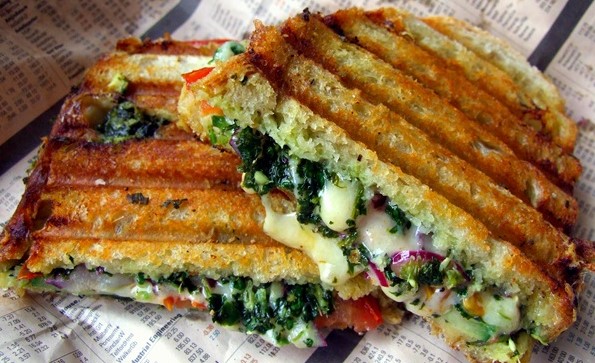 INSIDE HIS KITCHEN
The recipe that I will share with you today is a popular street food in Mumbai. Sadly, I have never been to the city but someone who had told me that my version of the street food is "better than the original". So here it is, the all-time favourite desi sandwich that can be a delicious breakfast or snack option.
Ingredients
For green chutney
A handful of mint leaves; a handful of coriander leaves; 1-2 green chillies, with or without seeds depending on how hot they are; 1 cm piece of ginger, peeled; lemon juice; salt.
For masala mix
1 pinch each of ground cumin, ground cinnamon, amchur powder, ground coriander, black pepper and salt.
For Mumbai Sandwich
2 slices of white bread; cheese, grated (any melting cheese will do); ¼ cucumber, sliced; 1 tomato, sliced; 1 red onion, sliced; butter; 1 garlic clove, cut in half
How to make
Begin by making the chutney. Put all the ingredients in a blender and blitz until fully mixed. Transfer to a small bowl and set aside.
To make the masala mix, simply add all the ingredients to a large bowl and stir until evenly combined. Rub one side of each piece of bread with the cut side of the garlic. Butter both sides of bread and spread over a generous layer of chutney. Layer with cucumber, then sprinkle the masala mix. Repeat this process with a layer of tomato, then cheese and onion. Top with the other slice of bread. Either toast the sandwich in a sandwich toaster, or fry in a heavy-based pan with something heavy on top (like another pan) until golden on each side. Serve with ketchup.
~ MD ENAMULLA KHAN (ALI),
Corporate Chef