National
Partha removed from Mamata ministry, suspended from TMC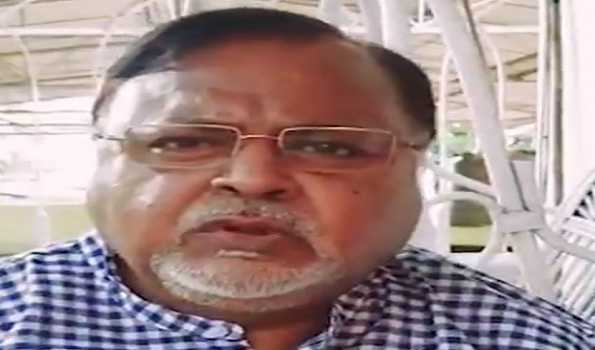 Kolkata, July 28 (UNI): Partha Chatterjee was on Thursday sacked from West Bengal's Mamata Banerjee ministry and all party posts, besides being suspended from the Trinamool Congress, six days after his arrest by the Enforcement Directorate (ED) in connection with the alleged School Service Commission (SSC) recruitment scam.
The once all-powerful minister and Trinamool leader lost all his government and party posts, hours after the ED allegedly recovered nearly Rs 28 crore and a huge quantity of gold from the flat of model-actress Arpita Mukherjee at Belgharia in the city's northern suburb, taking the total haul from her residences to close to Rs 50 crore since last week.
The ED has already arrested Mukherjee, claiming she was Chatterjee's "close associate" and raising the suspicion that the money was the "proceeds from the School Service Commission (SSC) recruitment scam".
Chatterjee, who was virtual number two in the cabinet, held a slew of portfolios including commerce and industries and parliamentary affairs, public enterprises and industrial reconstruction. He also was the in-charge of the information technology and electronics departments.
"Partha Chatterjee…. is hereby relieved of his duties as minister-in-charge of the aforesaid departments with effect from 28th day of July 2022," the state government said in a notification by order of the governor.
The notification was signed by the chief secretary. A couple of hours after losing the government posts, Chatterjee was sacked from all party positions by the Trinamool Congress following a meeting of its disciplinary committee, which was ironically chaired by the now disgraced leader till the other day.
Party National General Secretary Abhishek Banerjee, who convened the meeting of the panel, announced that Chatterjee has been suspended from the party with immediate effect.
"He has also been stripped of his post as party Secretary General, editor of party mouthpiece Jago Bangla, national vice-president and member of the national working committee with immediate effect. The suspension will be in vogue till he is cleared of all charges in the alleged SSC scam," said Banerjee.
Chatterjee has also been sacked from the disciplinary committee.
Banerjee said the ED must find the sources of "black money" which was recovered from two flats of Arpita Mukherjee. Asked about viral photos and videos of party supremo Mamata Banerjee with Mukherjee, Abhishek said, "If anyone comes in the photo frame of Mamata Banerjee, she is not responsible for that".