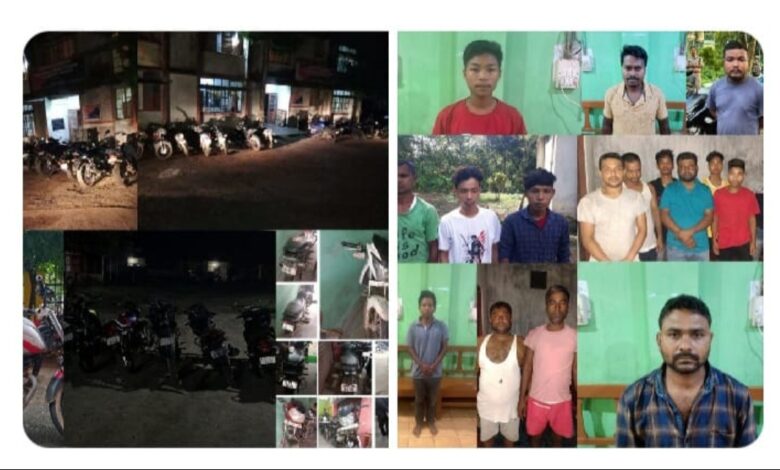 Shillong, July 7: A special investigation team (SIT) of the West Garo Hills police seized 47 bikes and arrested 17 persons involved in theft of vehicles.
In a statement issued on Thursday, the West Garo Hills SP VS Rathore said in order to prevent and detect the vehicle theft cases regularly occurring in Garo Hills area, the SIT, under the supervision of the SP, was constituted on July 4.
The SIT was authorised to investigate all undetected vehicle theft cases registered in the last 5 years.
The SP said through meticulous investigation conducted over the last 4 days, the SIT has managed to recover 45 bikes suspected to have been stolen and arrested 17 persons on charges of committing theft, robbery, dacoity, forgery, cheating and for habitually dealing with stolen bikes.
Other incriminating materials recovered from the arrested persons revealed  that there are inter-state vehicle theft gangs operating across almost all districts of Assam and Meghalaya.
The SP added that it was learnt the bikes stolen from Assam are being sold in Meghalaya and vice-versa through garage mechanics and second-hand vehicle sellers.
Through the recoveries, ten undetected cases have been solved, police added.
A summary of the case
Vehicles recovered :  45 Nos. (11 from Rajabala, 12 from Jengjal, 2 from Tura, 7 from Bongaigaon and 13 from Dadenggre)
Persons arrested:   17 Nos. (15 from Meghalaya, 2 from Assam)
Mobile phones seized: 17 Nos.
Cases solved :  10 Nos. (6 from Assam, 4 from Meghalaya)
The SP said a common feature detected during the investigation of all these cases is that the local residents of the district are purchasing second-hand bikes as well as selling or exchanging their bikes without proper documentation and without obtaining the vehicle enquiry report from police.
Stolen vehicles purchased online 
The SP said some persons have purchased vehicles from online markets like OLX, Facebook and others, through which stolen vehicles were advertised and sold.
"Registration certificates (RCs), engine numbers & chassis numbers of most of these vehicles were tampered in order to avoid detection by law enforcement agencies" Rathore said, while urging people that before  purchase or sale of vehicles, police clearance must be obtained from the office in order to avoid unnecessary hassles at a later stage as the vehicle owner is liable for legal action if the concerned vehicle is found to be indulged in any criminal offence, road traffic accident and others.
Vehicle enquiry report may be obtained from District Crime Records Bureau, Tura which is located in Tura Police station building and the crackdown will continue and more recoveries are expected in near future", the SP added.