National
Rahul questioned by ED; Cong leaders detained for protesting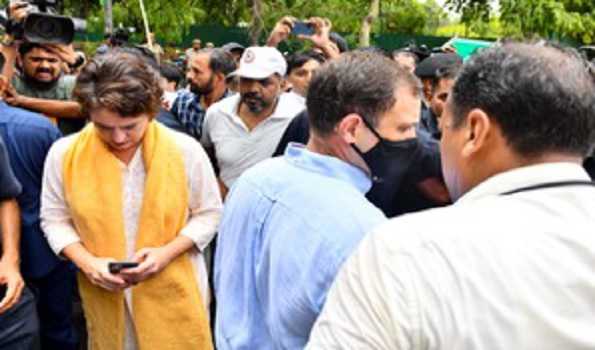 New Delhi, June 13 (UNI): Rahul Gandhi on Monday appeared before the Enforcement Directorate (ED) in connection with a money laundering case related to the National Herald newspaper as the Congress party's workers and leaders held protests in the Capital and across the nation.
The 51-year-old former party president arrived at the probe agency in central Delhi before noon. Much happened between his departure from his Tughlaq Lane residence and AICC headquarters and the ED office. He started from the Congress office on Akbar Road accompanied by a large convoy of party leaders.
The entire contingent of senior leaders, including Rajya Sabha LOP Mallikarjun Kharge, chief ministers of Rajasthan and Chhattisgarh Ashok Gehlot and Bhupesh Baghel, KC Venugopal, Jairam Ramesh all slammed the Centre for the move as they protested on streets.
Sister and party General Secretary Priyanka Gandhi walked alongside her brother as the march continued. Delhi Police put up barricades across the central Delhi region — all of Lutyen's looked like a camp. The Rapid Action Force has been deployed close to the ED office after the protestors were all taken away in police buses.
The Congress put up a show of strength as all roads leading to the Congress office in central Delhi were blocked since Monday morning to stop the protesters, and later several Congress workers and leaders were detained.
The former Congress chief, accompanied by Priyanka Gandhi and other party leaders, started to walk towards the ED office in Janpath for questioning around 11 a.m.. He started from the Congress office at Akbar Road, but was stopped at a barricade at Motilal Nehru Marg, from where he and Priyanka Gandhi boarded a car.
Other Congress leaders continued the march amid heavy police presence.
Senior leaders who were detained included Gehlot, Kharge, Jairam Ramesh, Mukul Wasnik, Digvijaya Singh, Meenakshi Natarajan, Deepender Hooda, PL Punia, Venugopal, Randeep Singh Surjewala, Gaurav Gogoi among others. Party leader Pawan Khera, who was also detained, tweeted a video saying they were being taken to Fatehpur Beri. "All jails in Delhi have been filled, but we will not give up," Khera said.
Some Congress leaders, including Adhir Ranjan Chowdhury, and Venugopal were taken to the Tughlaq Road police station, where they were later joined by Priyanka Gandhi.
Party's chief spokesperson Randeep Singh Surjewala and some other leaders were taken to Sarojini Nagar police station.
The Rajasthan CM, who was also detained said the government is not concerned about inflation, unemployment, and added, "How long will you mislead the country by doing 'Hindu-Muslim'? For 70 years all religions, castes, communities stayed together. Indira Gandhi lost her life but did not allow Khalistan to be created," Gehlot said.
"We don't know which direction they are taking the country in," he said.
Rahul Gandhi was summoned as per the complaint filed in the court of the Metropolitan Magistrate, Associated Journals Limited (AJL) took an interest-free loan of Rs. 90.25 crore from Indian National Congress, which was not paid back.
Congress has maintained there is no money laundering involved, and has called the summon a politically motivated move.
Party president Sonia Gandhi was also called for questioning on June 8, but could not attend as she contracted Covid-19 and was admitted to Sir Ganga Ram Hospital. She will now be given a fresh date for appearance.