Headlines
Sanbor against violence to resolve border dispute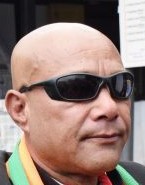 Shillong, Aug 1: With controversy raging over the comments of  Cabinet Minister Sanbor Shullai supporting Mizoram MP who wanted to kill the intruders, the former said that he wants to resolve boundary dispute between Assam and Meghalaya   amicably without shedding blood.
In a clarification to the press on Sunday, Shullai said he had clearly stated in the press briefing that he does not promote or believe in any form of violence and wants amicable and acceptable solution to the border dispute between Meghalaya and Assam.
"This was the view by me with regards to the border dispute in Ri Bhoi district and it has no connection with what happened in Assam-Mizoram border," he said.
During the press briefing, Shullai had referred to Mizo MP but added that if a person, his family and his house are attacked, he has to react in self defence.
Shullai said that as there are12 areas of dispute between Meghalaya and Assam, urgent solution is required to safeguard the tribal population of Meghalaya who always live in fear.
"To safeguard these hundreds of tribal families living at the border, I was of the opinion that more forces should be deployed to protect them and our land. That is well within the state's jurisdiction and also the duty of the state to protect its citizens," he said.
He said as far as Assam-Mizoram issue is concerned, he has no right to comment or take a stance with any of them.
"But all I advocate is that violence of any form will never bring any solution and that I hope that all border issues are settled politically and is accepted by people on both sides of the border without shedding a drop of blood", he added.
Shullai also expressed confidence that under the leadership of Union Home Minister Amit Shah the long pending boundary dispute between Assam and Meghalaya will be resolved permanently for lasting peace.
"I have full faith under the leadership of Amit Shah, Himanta Biswa Sarma and Conrad Sangma that the border issues between Assam and Meghalaya will be resolved amicably and permanently thereby bringing in lasting peace and communal harmony among the peace loving people of Assam and Meghalaya," Shullai said.
He also assured that the BJP is here to unite and protect the unique identity of the Northeastern states and its people.
"BJP is looking to solve issues that no previous governments had the will to do.The BJP considers the Northeastern states at par with mainland India and that it wants to match its stride of development with the rest of the nation but at the same time preserving its rich cultural heredity and bio-diversity," he said.