Headlines
Seinraij Jowai to celebrate Behdeinkhlam with health protocols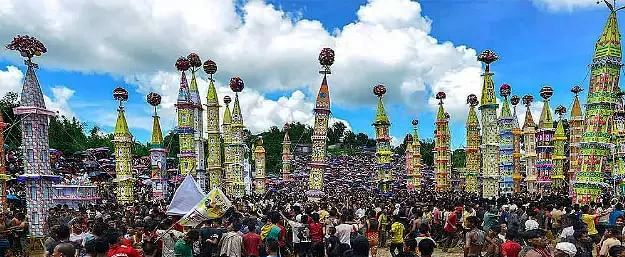 Shillong, July 2: The Seinraij Jowai has decided to celebrate Behdeinkhlam with Covid-19 protocols that include allowing only vaccinated people to take part during the rituals.
Khlam  means plague or pestilence and Beh Dein means to drive away the plague with sticks and religious fervour.
The festival will be from July 8 to 11.
"We wish that the Behdeinkhlam Festival 2021 is celebrated to its fullest by performing all aspects of religious importance. And nevertheless, we will not overlook the safety measure and Covid- 19 protocols," said OR Shallam, president of the Seinraij.
Speaking to reporters, he said crowd will remain temporarily suspended and all participants selected by the localities and who are vaccinated will be allowed.
Persons with Covid-19 symptoms, although vaccinated, will also not be allowed to take part," he said.
Shallam added that persons above the age of 60 years and children below the age of 12 years will be restricted from taking part during the festival.
"No audience will be entertained in all the events/religious ceremonies of the Behdeinkhlam festival, 2021. No devotees will be allowed to witness the festival at all the events/religious ceremony as usual except the limited selected members," he said.
The SOPs also said that the festival will observe the prayers, libation and oblation, rituals and an act of beating the roofs with sticks by offering prayers to the almighty God to bless the family and to drive away plague, pest and evil spirit from the house.
All religious events participated by locality at Iawmusiang are limited to 40 persons only at one event  in their respective places maintaining the Covid 19 precautionary etiquette.
This year, all the Deinkhlam , 'Ka Khnong Blai', 'Ka Symbood Khnong' and 'Ka Deinkhlam of all the localities' will be part of the festival. All localities are restricted that they shall fetch "Ka Deiñkhlam" which will be able to carry only 20 persons, it said.
The escorts of Ka Deiñkhlam along with the beating of drum (Ka Choh Bom), to whistle and blow the musical pipe (Ka PutBhuri), beating of the Chew Chew (A plate like musical instrument), Ka Bikur (the trumpet) shall be only of 10 persons.
Construction of Rong and Rots which can be carried only by 10 persons will be part of the festival to symbolize the magnificence of the Behdeinkhlam festival with the celebration of 50th Meghalaya Statehood and the 75th year of India's freedom celebration.