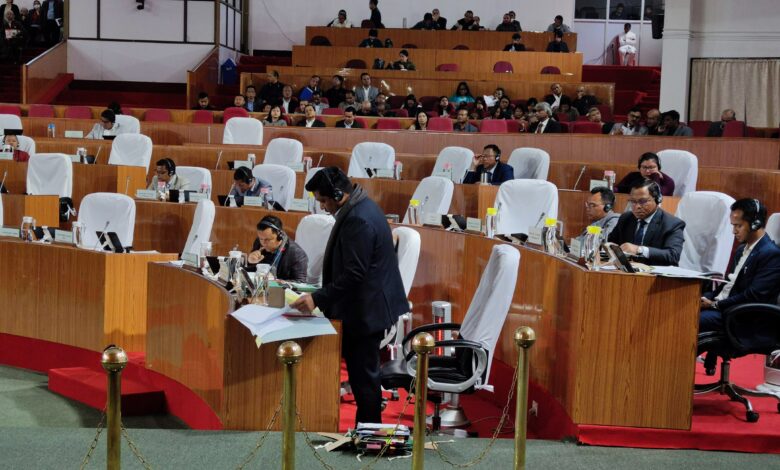 Shillong,March 27: UDP MLA Lahkmen Rymbui spoke for all who were tired when he stood up and commented about the longest speech of Chief Minister Conrad Sangma in reply to the discussion on Budget on Monday evening.
The chief minister spoke for three and a half hours starting from 5.05 pm and ending at 8.30 pm, summing up the discussion on the Budget presented by him.
After the reply, Lahkmen stood up and said that the government should compete for award as this is the longest speech in any Indian Legislature.
The chief minister's reply was replete with repetitions while commenting on the points raised by the members.
Assembly victory is winning confidence 
Replying to the criticism of the Opposition, the chief minister asserted that the MDA's victory in Assembly elections is winning confidence of the people of the state.
Commenting on the allegations of corruption, the chief minister said he is not bothered about the allegations as the people who had confidence in the MDA voted it to power.
Conrad also named many corruption cases during the tenure of the UPA in reply to the allegations of corruption involving the state government as raised by the Prime Minister and Union Home Minister during election campaigns.
Downplaying election speeches,Conrad  reiterated that the presence of the Prime Minister and the Home Minister during the swearing-in ceremony of the MDA cabinet ministers give a different picture.
High Level Tribe
Earlier, while participating in the discussion on the Budget , Celestine Lyngdoh (Cong-Umsning ) said beyond the three tribes of  Khadi-Jaintia and Garo , a fourth tribe christened  High Level Tribe has emerged.
He pointed out that illegal coal mining has the support of the High Level Tribe and added that the inability of the government to control illegal coal mining has resulted in the High Court ordering for deployment of CISF which exposed the helplessness of the police.
He also wanted to know the status of probe reports into Saubhagya and rice scams.