North East
Sonowal: A regional leader's rise in national politics
By Abhijit Deb/UNI
New Delhi, Jul 7:  In politics, being a weather-wane can be a great talent and to be able to discern the way the wind is blowing and to be able to benefit from it is a great calling. Former chief minister of Assam Sarbananda Sonowal who was sworn-in as the Union Minister not only read the way the wave is shaping but is also able to ride it.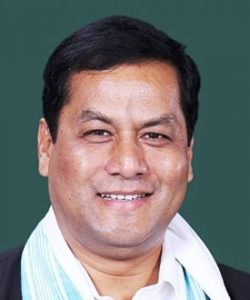 His quick rise from being a regional leader in Assam to being a minister in Prime Minister Narendra Modi's cabinet is worth a study itself. Five years after he switched to the Bharatiya Janata Party (BJP) from the Asom Gana Parishad (AGP), 53-year-old Sarbananda Sonowal became the first BJP chief minister of Assam in 2016. And presently he is an MLA from Assam's Majuli constituency.
Sonowal in conjunction with Hemanta Biswa Sharma are considered to be the two pillars on which BJP has been able to build its successes in Assam. But Sarma, the present chief minister of Assam, overtook Sonowal way too easily in five years of the first term of BJP government in Assam.
Despite losing the CM post, Sonowal kept his composure and today he was rewarded again by BJP for being a true loyalist.
Sonowal's meteoric rise in politics started  when he was named president of BJP's state unit in 2012. The party's assembly election debacle of 2011, where it won just 5 of the 126 seats, prompted it to look for replacements of state leaders. Sonowal, in alliance with AGP, has managed to achieve what no leader has been able to in Assam in 15 years—end the three-term reign of Congress chief minister Tarun Gogoi and formed the first BJP government not only in Assam but in the entire seven states of North East.