Headlines
Success story of a sick tailor's son and a 'queen' from Mairang 
Shillong, Aug 5: Kevinstrong Lawriniang ran several rounds in his rented house compound at Pyndeng Umiong, Mairang with tears of joy.
He could not go beyond the compound as the place was declared a containment zone. He and all other family members are Covid positive.
Earlier on Thursday, he checked his result from the bottom of the MBoSE result list as his expectations were not high.
Kevinstrong first thought that his position will be below 15.
As he did not find his name, he and the anxious family yet again glanced through the result sheet.
"When we found my name on top, we all cried and I ran around", said the student on phone.
Kevinstrong from St. Thomas Higher Secondary School, Mairang,  who secured first rank in SSLC, achieved this by working hard amid hardships.
Life marred by poverty
Kevinstrong stays in his rented house with his poor parents, sister and husband with three children.
He narrates his story: "My father is a tailor but he is not working since he is having severe joint pain for the last many years besides he is also facing difficulty in walking. Mother is a daily wage earner and ekes out a living by working in people's homes and also by farming. We are a family of eight with my parents, my sister, brother-in law and three children and hence we face financial difficulty.
As far as the result is concerned, I thought that I will get only distinction but the first position is a dream come true. I did not study for long hours. It does not matter how many hours you study but what matters is what you study.
Since the family is poor, I have decided to pursue higher studies in Mairang only.
For the online classes, I did not have own mobile phone and hence used by sister's phone. Since my sister is a teacher, only after her working hours, I could use the phone. I am planning to take up science subject for higher studies but there is anxiety since we don't have that much money to pursue education. My message to the students is that you may be poor but don't lose hope.
Queen Annable Ann Basaiawmoit of the same school is the 10th position holder.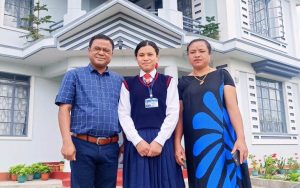 Besides hard work, she thanked the teachers and parents for their contribution for the success.
Compared to Kevinstrong, the family of  Queen is planning to take admission for her in a Guwahati residential school.
"I want to pursue science stream in Guwahati and my parents prefer education outside as the atmosphere there will be different", she said.
While her father is a teacher in Mairang, mother is a health worker. Queen has two younger brothers.
Though there were online classes, she found additional time to study further.
Like in the case of Kevinstrong, her parents did not purchase a mobile phone for Queen who had to depend on the phone of parents and adjusted the time accordingly.
The message of Queen for her friends who want to excel is that they should not get distracted by social media and instead should concentrate on studies.
Success came when the school is set to celebrate its golden jubilee.
Vice Principal speaks
The Vice Principal of St. Thomas Higher Secondary School, Sr.Cecilia Kujur said the rank holders have been studying at the school from junior classes.
Though the school has two rank holders, the overall pass percentage of the school is 61.
"May be the students did not concentrate and instead misused the mobile phones which were actually meant for online classes", said Sr Cecilia.
The school started securing rank since 1999.
Earlier in 2001, Pavel Barman from the school got first rank in SSLC.