It is a long story that started blossoming in 2013. Three college students, after visiting a care home for disabled children in Kochi, were moved when a child asked for story books.
"A friend of mine went back and gave the child a few books. We then discussed how to give shape to our inchoate idea and take up a similar initiative in another place," said Noel Benno, founder of Storytime that has set up nearly 40 libraries across the country.
The story that the three friends started scripting when in college has turned into a delightful novel that has touched numerous lives and opened the window on the world for them. The trio's network in and outside the country, especially the Middle East, helped the youth with a vision to spread their wings.
This time, Benno and the core members of the project — Cindy Mathew, Arundhati Menon, Dennis Sebastian and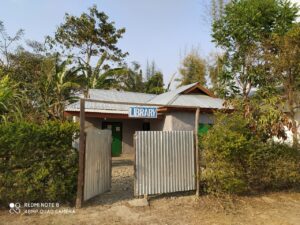 Priyanka Vasudevan — have brought the love for books and reading to the North East. Storytime has set up a library in L Gamnom village in Manipur's Churachandpur district with the help of another friend and volunteer Lalcha Haokip, who is from the village. "We were in the same law college in Bengaluru. When he came to know about the library initiative, he approached me and requested to set up a library," said Benno.
The L Gamnom Village Public library that came up last year before the national lockdown started is the 38th establishment by Storytime. The village community came together to build the humble structure that would house the dreams and imaginations of hundreds of children. The library is being maintained by L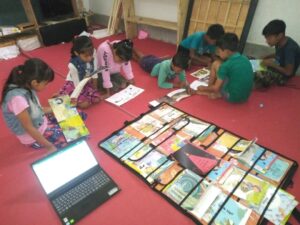 Gamnom Youth Club.
According to Benno, Storytime facilitated the initiative in the northeastern village and the community there did a yeoman job to implement the plan. The UAE-based Young Author Academy and other organisations helped in sourcing and donating books.
Like many rural areas of the country, the Manipur village too has a high rate of school dropout. Poor parents often encourage their children to take up jobs or help them in the fields, especially during the harvesting season. Haokip, who is currently based in Bengaluru, said when schools started online classes during the pandemic, it became impossible for students in villages to continue their lessons owing to poor connectivity and lack of smartphones.
"My friends and other volunteers in the village started giving tuitions to these children and this continues. The library is a space where anyone can come and read. If someone cannot study at home owing to space problem, they come to the library to complete their lessons," said Haokip.
The new library has over 2,000 books, which include children's literature, textbooks and law books. "Children there have to come from afar to take books. The response is good and there are about 30 members. But this is only the beginning and a perceivable impact of the library is yet to be noticed," said Haokip, adding that he wants to take the initiative forward to other villages.
The club has already held a literary competition to encourage more children into reading.
Storytime's second library in the North East is coming up in the Majuli island. This time, it will be a mobile library. For now, Prachodhan Development Services, a local NGO, has built a space for a temporary library and the books have been obtained under a project called Balajyoti, said Jerin Mathew, a member of the NGO.
"The mobile library will take a few more months to start. We have decided to buy an e-rickshaw and put book shelves in the back. This way we can save fuel cost," explained Mathew.
The high rate of school dropout and the skewed education system in most of the states in the country had come as a surprise to Benno, whose home state Kerala has cent per cent literacy and "it is kind of a taboo to not send children to school". He quit a corporate job in 2014 and joined a non-profit organisation working in the education space to understand the system better. The prevailing scenario made Benno and his friends more determined to push for Project Storytime. Now, with the help of about 300 volunteers across the country, their story of perseverance and hope is unfolding each day. The magnum opus is yet to be complete.
~ Sunday Monitor